Brilliant Directories
Description de Brilliant Directories
---- Profitez de la version d'essai gratuite de sept jours : sur le site de l'éditeur ---- Brilliant Directories propose une solution de gestion des membres tout-en-un et abordable pour rationaliser
Lire la suite
tous les aspects de votre association ou site web d'adhérents. Une solution complète et clé en main avec une installation rapide et une assistance gratuite et illimitée offerte par une équipe dédiée de service client. Comprend la conception de sites web, le traitement des paiements en ligne, les adhésions à plusieurs niveaux, le suivi des arriérés, du contenu premium réservé aux membres, etc.
Afficher moins
Qui utilise Brilliant Directories ?
L'éditeur offre ses services aux associations de toutes tailles qui recherchent une solution pour rationaliser leurs opérations et optimiser leur efficacité. L'éditeur offre également un support technique illimité et une installation facile pour toute votre équipe.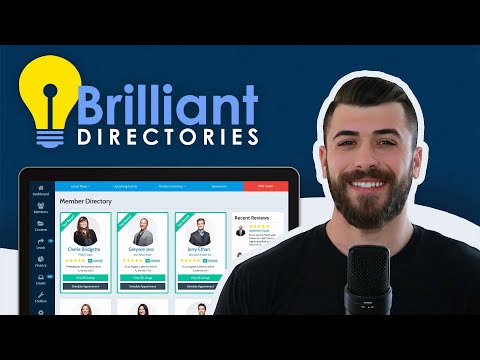 Vous hésitez à choisir Brilliant Directories ? Comparez-le à une autre option populaire
Version gratuite
Version d'essai gratuite
Version gratuite
Version d'essai gratuite
Pourquoi ce message s'affiche-t-il ?
Alternatives à Brilliant Directories
Avis sur Brilliant Directories
Anupam
Director (Inde)
Utilisateur LinkedIn vérifié
Gestion de l'enseignement, 11-50 employés
Temps d'utilisation du logiciel : plus d'un an
Alternatives envisagées :
Amazing directory platform with rich set of features
Commentaires : We are a large institute with 1000s of private tutors. We wanted to showcase our member teachers and also encourage our students to review and rate them or hire them from our website after evaluating the profile of these teachers. For this purpose, brilliant directory comes extremely handy.
Avantages :
Most Impactful features: Membership management , automated emails at different stages of membership lifecycle, getleadmatched, SEO and there are many out of the box impactful features.
Inconvénients :
For the new bees with no technical background, learning curve can be little steep. But with the guide documents/videos for almost everything and very helpful support, this is not a major issue.
Alexander
Online Marketing (Allemagne)
Utilisateur LinkedIn vérifié
Transport routier/ferroviaire, 11-50 employés
Temps d'utilisation du logiciel : 6 à 12 mois
After long research I found this perfect solution to build a moving platform
Avantages :
It is very easy to create a platform. It is like a modular system. The support is perfect. That is why you don't need IT staff. Also, price-performance is outstanding. You can use it as a directory and also as a lead generating system. Also, as a classified website. The dashboard is very well structured. I can write a book about the pros.
Inconvénients :
There are no real cons. I have now 6 websites with Brilliant Directory.
Stephen
Preseident (É.-U.)
Défense et aérospatiale, 11-50 employés
Temps d'utilisation du logiciel : 1 à 5 mois
Very Pleased
Commentaires : Outstanding!
Avantages :
After a lot of research, I settled on Brilliant Directories. They have been outstanding regarding customer support and the granularity of the website controls/options is more than I had hoped for which is very beneficial to how I had intended to implement my website. I could not recommend Brilliant Directories more - Fantastic! They have made me a fan.
Inconvénients :
There is a high learning curve, but BD has many videos and support articles, not to mention outstanding customer support, so that has mitigated my lack of knowledge.
Temps d'utilisation du logiciel : Non fourni
Overall Good but Functionally Lacking
Commentaires : I rated overall low because after a year and a half we still don't have full functionality. Our issue is with the built in Payment gateway. Though my present state of our directory I should have realized would be an issue because when I bought the directory Dennis had to invoice me through "PayPal" as the payment gateway would not process any of my cards, not once but twice. When we first bought it was monthly, then I bought the life time and each time my payment would not process through the directory payment gateway. Only though PayPal was I able to make payment. I had a number of potential members complain about the same. We had to stop taking membership. I brought this issue up to BD and they said they were looking into it. Then in December 2014 they announced integration of WHMCS into the directory. Here it is June 25th, 2015 still no WHMCS integration. I joined or bought BD in December 2013. I have thousands of dollars invested and cannot count the number of man hours invested. Only to be held up by the inability to take PayPal payments for membership. Customer service keeps telling me they are working on it and will notify me when implemented. In all fairness I believe BD has great potential but functionally can be lacking because, I believe, they have made it to good, if there is such a thing. Given we cannot get into the back end it is hard to evaluate, my IT person said WHMCS integration shouldn't be that complicated given all the other functions within the directory itself. He said setting up a PayPal gateway shouldn't be that complicated but because we are limited to access to the back end of the directory our hands are tied. I have said this before. Looking good and being good is two different things! This customer has had about enough of being told it's coming. Six months now!
Réponse de l'équipe de Brilliant Directories
il y a 7 ans
Hi Bruce, Thank you for your message and your feedback. We always appreciate it. We are sorry for any frustration related to the payment processing aspect of the software. Because of great feedback like yours, our internal development team has dedicated July as "Payment Gateway Month" We know that not being able to connect your own gateway may have hindered your ability to grow even faster. We are going to spend the entire month of July completing the payment processing features of the software so that you and other partners can easily integrate your own payment processing provider. We want to make things right and thank you for sharing your experience here on Capterra. We will be sure to notify everyone with a company newsletter once the new payment processing features are working so that you may connect your own payment gateway to your directory. Thank you again and we wish you great success with your directory website. Thank you. Warm regards, Brilliant Directories
Keith
Project Manager (É.-U.)
E-learning, 2-10 employés
Temps d'utilisation du logiciel : 1 à 5 mois
Alternatives envisagées :
My favorite straight-out-of-the-box membership directory builder!
Commentaires : It has been my favorite SaaS purchase all year. Worth every single penny, and I feel confident that this company is going places!
Avantages :
Candidly, the training videos and support team has always been so helpful and detailed. Where most software tutorial videos end up being insanely long and boring, Brilliant Directories nails it with a great library of FAQs, pipelines for setting up and configuring your website, and a Youtube library of webinar replays that give you ideas how to incentivize upgrades. A close second is, of course, the powerful website builder itself. The whitelabel functions are not obnoxious and you can customize nearly all colors and pages to your liking.
Inconvénients :
So far I am so excited about the items on the roadmap for Brilliant Directories. My only complaint would be the learning curse for beginning to conceptualize the feature trees for members and how each member can tag themselves to be listed in different sub- or sub-sub-categories. I am still practicing, but with many preview tests, it is very evident how unlimited the possibilities are.