Description de Cin7
Cin7 est une plateforme de gestion des stocks automatisée destinée aux marques dont la croissance des revenus est de plus d'un million de dollars. Cin7 synchronise leurs stocks avec les ventes et
Lire la suite
commandes de tous les canaux de vente en ligne et physique, puis automatise le traitement des commandes pour en optimiser l'efficacité. Les marques qui vendent ou distribuent des produits s'aident de Cin7 pour réduire leurs coûts, leurs marges et leurs flux de trésoreries, tout en maintenant leurs stocks en toutes circonstances. Remarque : Cin7 ne convient pas à la gestion des actifs.
Afficher moins
Qui utilise Cin7 ?
Les grossistes, les détaillants, les importateurs et les fabricants légers multicanaux se tournent vers Cin7 lorsqu'ils ont besoin d'une plateforme unique qui leur permet de maîtriser les coûts à mesure qu'ils se développent sur de nouveaux marchés et ajoutent des canaux de vente.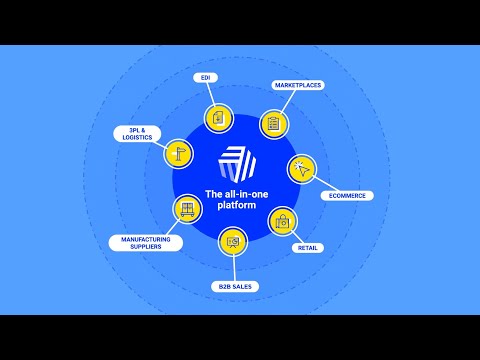 Vous hésitez à choisir Cin7 ? Comparez-le à une autre option populaire
Indisponible dans votre pays
Version gratuite
Version d'essai gratuite
Version gratuite
Version d'essai gratuite
Pourquoi ce message s'affiche-t-il ?
Sean
General Manager
Utilisateur LinkedIn vérifié
Vins et spiritueux, 2-10 employés
Temps d'utilisation du logiciel : 6 à 12 mois
Extremely powerful inventory and order processing and logistic package
Sous-titres en français disponibles pour la vidéo
David
Utilisateur LinkedIn vérifié
Temps d'utilisation du logiciel : 6 à 12 mois
Source : GetApp
Great Cloud based Software - Easy to use and lots of features
Commentaires : We were a loyal system based inventory software user for almost 3 years (Inflow), everything with our previous software (Inflow) was good. As we have grown, we wanted multiple users and we looked at other options and decided we have to upgrade to a cloud based software. I personally did not want to go on the path of server, VPN etc.. We were very nearly about to sign in for another cloud based system and at the last minute we realised that it is not a special software for fashion industry.. We wanted a software that can cope with Size, Colour, Fabric, Style and Fit variations.. Thank God the other software people actually recommended Cin7 which is a Fashion Industry special software. We are so glad we made the move.. It makes our business day to day operation a breeze and our sales agents in multiple locations (Some offshore as well) entering orders directly into the system.. This cut down or data entry time dramatically.. also we are now able to see or "Out of stock items" by size.. Also the Web portal B2B is a God Send... Our customers love this feature.. I also have to say that the customer service experience I had is double 2 x 5 STAR... On Boarder Jeff made the whole operation so smooth that I never felt I was all alone in this journey... This is genuinely a good product backed by good people.. I recommend this to any business who are looking to upgrade from system based software to cloud based programme.. Thank you guys.. we are still a long way to go with implementing this software in our business, but I am confident that we will get through this..
Avantages :
Software specially designed for Fashion Industry.. Multiple Size, Style, Fit, Fabric etc.. No problem... Many advanced features like B2B webportal, Xero Integration, Email Integration etc at no extra cost. On-Board support is worth $$$$ of dollars.. They do this so well.. Thank you Jeff... Pivot table reports - We were used to excel reports.. But this Pivot table stuff is out of this world..
Inconvénients :
At times Crashes during log-ins.. I assume a bug... It is understandable considering cloud based system.. Not a major, but it will be great if they can rectify this soon. Automatic email reports.. for example a weekly email to our customers on stock or sales report etc would be a great feature. Simplified data entry short cuts (like Control + D - for entering same data for all lines) would be a great feature to add. Rather than Xero or QuickBooks, a simplified inbuilt payment system in Cin7 will be beneficial for small businesses who don't want to use accounting packages. Single user low cost (under $ 100 per month) version would benefit some small operators..
Réponse de l'équipe de Cin7
il y a 6 ans
Hi David, thank you for the overall 5 star review! It's great to hear you think the product is awesome and the staff at Cin7 have been helpful. Thank you for the great feedback especially about Jeff your on-boarder. Thank you for the honest feedback we're always looking to improve for our customers and this has been passed onto support. We look forward to the continued support and value you as a customer.
Sean
Owner & IT Manager (Nouvelle-Zélande)
Utilisateur LinkedIn vérifié
Produits alimentaires, 2-10 employés
Temps d'utilisation du logiciel : 6 à 12 mois
Alternatives envisagées :
Extremely powerful inventory and order processing and logistic package
Commentaires : While challenging to learn and deploy, it's unique feature set and capabilities mean they don't have any one direct competitor and you'd have to piece together multiple platform and cloud services to get the same level of features and functionality.
Avantages :
Cin7 has allowed us to integrate and resolve most of our order processing, logistics, inventory and accounting functions into one platform. The API integration into Xero is critical for our business. The reporting capabilities are very powerful and can be used to resolve a number of sales, inventory and regulatory reporting requirements. There really isn't any product on the market that rolls all these features into one package.
Inconvénients :
The price is very expensive and the learning curve is quite steep. The CRM functions are pretty light and need fleshing out. Of most concern were the surprisingly large number of bugs and errors in the reports. Support has been responsive and fixed most issues we have discovered in a timely fashion, but it has been surprising how many bugs we have identified and had to report. This left us feeling like we were paying to be a beta tester. As time goes on and the product matures, this should become less of an issue and I don't consider it a deal breaker, but Cin7 could really improve in this area.
Réponse de l'équipe de Cin7
il y a 3 ans
Hi Sean, Thank you for your review. We are glad to hear that you found value in our software system and support team. We will share your feedback with the product team, as we are always looking for improvements.
Ann
Co-Founder & CEO (É.-U.)
Bijoux et produits de luxe, 2-10 employés
Temps d'utilisation du logiciel : 1 à 5 mois
Alternatives envisagées :
Post Implementation Review
Avantages :
We desperately needed an inventory system and we are still working on learning to use it and its features. The onboarding experience was very good as they walked us through the process and helped troubleshoot based on our needs for the system.
Inconvénients :
There are limitations with images and other items that we were hoping it would have however, [SENSITIVE CONTENT] our implementation specialists helped us in customizing certain templates to help get us what we needed.
Zenia
Office Manager (Canada)
Vente au détail, 2-10 employés
Temps d'utilisation du logiciel : 6 à 12 mois
They try but miss the mark in many cases
Commentaires : I really like all the people there, but the product and service speed feel clunky and unfinished. I would not recommend the product.
Avantages :
-All the staff we've worked with at Cin7 have been very nice and I think genuinely wanted to help us. -The POs synced with QBO in a manner that our accounting team preferred over previous systems. -It integrates well with ShipStation. -Syncs well with Woocommerce. -Can add internal comments to customers and sales orders.
Inconvénients :
-Support is glacially slow. I have support tickets in that are more than 2 months old with no one answering. I've asked the (very nice) support chat to escalate and poke the relevant teams to no avail. -The way Cin7 does BOM items works fine for the internal orders, we found it creates difficulties with integrations. -Does not sync nicely with QuickBooks Online. At first there were 100+ errors, but we eventually got that under control (growing pains, right?) but now I've realized that the way it connects makes it impossible to track the value of our on hand inventory. POs import and increase inventory value, but SOs import with line items showing as a Service, so inventory cost is not deducted. I've opened a ticket about this, but am not holding my breath for a response. -Orders only sync to QBO if they have an invoice date... so if you have a sale that you can't invoice for a while (say stock is delayed) then you have to add a false invoice date and have to remember to update/resync it later. -Virtual stock is not always available to see, so it's not always clear how much we have on hand of BOM products. -Things often stop working without cause, and the fix seems to be to deselect the relevant setting, reselect, and save. Very frustrating when you pay for a working software.
Vente au détail, 2-10 employés
Temps d'utilisation du logiciel : 6 à 12 mois
Alternatives envisagées :
Cin7 or the others.
Avantages :
Inventory management in Cin7 gives a very clear and precise overview of our business. Managing inventory by using Cin7 is super easy and clear. We always had issues with gaining a bird eye view of our inventory with other past inventory softwares, but Cin7 gives a complete snapshot and details for our inventory, as we are a product-based company, inventory asset is the most valuable asset to us. Inventory tracking with Cin7 is very detailed! We can trace the sales order back to its source, which stock we used for a particular sales order. If there's quality issues or any other issues arise with a sales order, we know which batch or purchase order the stock comes from and we could perform quality inspections to the entire batch or purchase to prevent the same issue arising again, which ensures customer satisfaction. Inventory tracking at each location is also extremely detailed, it may not be the most user friendly (even though it's already very user friendly), but it gives a very detailed information of tracking every single unit we have on every single location, including Amazon FBA. Cin7 has some reports or functionalities for replenishment and re-ordering, but these features are a bit simpler than I though it would be. Improvements could be made on to these functionalities for sales demand forecasting, reordering based on lead time and safety stock. Currently, we use Inventory Planner to predict, forecast, and reorder our inventory.
Inconvénients :
The software integrates with ShipStation for label printing, there're multiple extra steps for our warehouse team to print the shipping label from ShipStation, rather than directly in Cin7. ShipStation only expose carrier packages, instead of custom package types via API, which we couldn't select the custom package types in Cin7's WMS app for direct label printing. And the workflow for packing and shipping in WMS could be improved, a lot to be improved. Custom product label needed to write CSS code. We print product or purchase order label on different label size and that took me 6 hours to write, since my major in university is not computer science.