Qui utilise Intuiface ?
Tous les pays. Provenance de leurs clients : 35 % d'Amérique du Nord, 35 % d'Europe, 10 % d'Asie, 10 % d'EMEA et 10 % d'Amérique du Sud.
Description de Intuiface
IntuiLab propose IntuiFace, une plateforme de pointe pour créer, partager et déployer des expériences numériques profondément interactives, expressives et connectées sans écrire une seule ligne de code. IntuiFace est utilisée par des centaines d'entreprises dans plus de 55 pays pour développer des expériences utilisateur sur appareils mobiles, écrans tactiles, Microsoft Kinect, Leap Motion Controller, lecteurs RFID/NFC et bien plus encore. Une plateforme adaptée aussi bien aux enseignes numériques, aux salons professionnels et aux expositions commerciales qu'aux bornes interactives et qu'à la vente assistée.
Informations sur Intuiface
https://www.intuiface.com/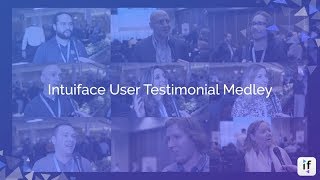 Play
Présentation des tarifs de Intuiface
Intuiface est disponible en version gratuite et propose un essai gratuit.
---
Déploiement et prise en charge de Intuiface
Ressources d'aide
Support en horaire de bureau
En ligne
Déploiement
Installation (Mac)
Cloud, SaaS, web
Installation (Windows)
Mobile (iOS natif)
Mobile (Android natif)
Formation
Formation en ligne en direct
Webinaires
Documentation
Intuiface - Fonctionnalités
Animations et transitions
Contenu audio
Contenu vidéo
Correction hors ligne
Modèles personnalisables
Médiathèque
Objets 3D
Outils de collaboration
Partage d'écran
Présentation hors ligne
Recherche/Filtre
Collaboration
Diagrammes
Enregistrement de l'écran
Gestion des idées
Gestion visuelle du workflow
Modèles
Outils d'annotations et de croquis
Outils de présentation
Planification de projets
Rapports et analyses
Toile numérique
---
Note moyenne
Facilité d'utilisation
4,3
---
Évaluer le logiciel
Partagez vos expériences avec d'autres acheteurs de logiciels.
Écrivez votre avis !
Valerie T.
Environmental Designer
Santé, bien-être et fitness, 10 000+ employés
Temps d'utilisation du produit: 6 à 12 mois
Note globale

Facilité d'utilisation

Fonctionnalités

Support client

Rapport qualité-prix

Probabilité de recommander le produit
Source de l'avis

Publié le 20/01/2020
"Yes... you can create a cool touch screen display yourself!"
Commentaires: I had 2 months to design and program 4 touch screens for a history display in our new hospital. I could not have done this without Intuiface and their designer services. I was able to take loads of information and make it relevant, easily accessible and visually appealing for our patients, visitors and employees. And the best part is... it's editable! We've seen so much engagement and use out of the program, we're already talking about other ways we can use this technology to sharpen our presentations and further connect with our consumers. I am a graphic designer, with no programming skills whatsoever. By myself, I was able to work with Intuiface's team and create a rather grand display in a short period of time. If I can do it, anyone can. Lastly (and this was a big factor in us choosing this program) you can't beat the price. For the impact, the annual costs are a drop in the bucket to what other companies charge to create something like this for you. Intuiface has placed the control in my hands. I can check on any screen at any time, I can make real-time changes, and you can't beat the results... people absolutely love it. It looks so high tech and sophisticated, your project is really going to make an impression.
Avantages: I was already familiar with Photoshop and Powerpoint, and a little HTML and Excel. These skills helped me learn how to use this program. Without that base, there would have been a little more of a learning curve, but the best thing about the software is that it is very user friendly. The WYSIWYG interface is extremely helpful as there are no surprises when you publish. And the software is truly intuitive. Many features that you'll want to incorporate into your design are automatically built in to the base functionality.
Inconvénients: This isn't the fault of Intuiface, but you do have to learn how to use it. Just like with any new program, it has its own language, interface and tools that you will have to familiarize yourself with. If you think you're going to be able to watch the get-started videos, sit down and make a sophisticated design in a week... it's not gonna happen. That would be impossible with any program that you have limited experience with. But, the support and the design teams are extremely helpful. Save up a little bit more and pay for their bootstrap services and additional tech support to get your design to be exactly what you want it to be, especially if you're on a tight deadline.
Source de l'avis

Publié le 20/01/2020
Alex B.
President
Design, 2-10 employés
Temps d'utilisation du produit: plus de deux ans
Note globale

Facilité d'utilisation

Fonctionnalités

Support client

Rapport qualité-prix

Probabilité de recommander le produit
Source de l'avis

Publié le 22/10/2018
"Intuiface is the #1 Interactive Display Software"
Commentaires: Overall, Intuiface has helped grow our business A LOT. We've been a design agency for them for years, and they've made us feel like we're part of the family. I've enjoyed getting to know their whole team and being a part of their progress. I'm writing this post because there is a real need for good Intuiface designers who are willing to put in the time to become agency-level professionals. There is a lot of opportunity out there to create real solutions that help people with this software.
Avantages: The thought and planning that went into this software is immense and there are too many things to list. If you're a designer, this will be natural to pick up since the interface is similar to that of an Adobe suite. Here's some things that are fantastic:
- API Explorer makes it easy to pull in LIVE data from almost any API. It's unbelievable how easy it is. You can use this to show live feeds, create your own custom CMS, or develop new products.
- The software suite is structured for you to have a lot of creative freedom. You're not stuck with some macro-modules that must look and act a certain way. You literally design the look and function you want.
- Publishing capabilities allow you to monitor and support a digital signage network if you like.
- Collaboration capabilities is very easy within and outside of your organization.
- The support is amazing. Nowadays almost every software suite has a tech-forum. Most of the support team has been there for many years, they are very knowledgeable, quick to respond, and often provide great visuals to help solve issues.
Inconvénients: - I guess the company kind-of totes this software like it's a simple solution for beginners. I'm sure this helps get people to try it, but my opinion is that it's a very robust solution with a steep learning curve. It takes time to get good at it, so keep that in mind.
- It's a little difficult to explain the difference in products and licensing to your clients.
Source de l'avis

Publié le 22/10/2018
Michelle S.
Engineer
Temps d'utilisation du produit: 1 à 5 mois
Note globale

Facilité d'utilisation

Fonctionnalités

Support client

Rapport qualité-prix

Probabilité de recommander le produit
Source de l'avis

Publié le 09/08/2017
"Too many bugs for me to recommend"
Commentaires: Final product looks very professional.
Avantages: Great UI, excellent features. Simple to understand interface.
Inconvénients: There are so many bugs that my project launch was delayed by 2 months. I would not recommend this software. Finally, after 3 months I've given up and am moving on to new software.
Source de l'avis

Publié le 09/08/2017
Megan C.
Post-Production Supervisor
Production audiovisuelle, 2-10 employés
Temps d'utilisation du produit: 6 à 12 mois
Note globale

Facilité d'utilisation

Fonctionnalités

Support client

Rapport qualité-prix

Probabilité de recommander le produit
Source de l'avis

Publié le 19/03/2019
"Intuiface- Coding for Everyone"
Commentaires: Digital signage/interactive touchscreen programs was not even on our radar just a year ago. We create corporate videos for manufacturing clients; about a year ago a client showed our producer what one of their competitors was doing at their trade show booth and said, "They made it with Intuiface; do you think you could make one for us?" After researching the software and deciding that adding this as another service to offer our clients would be a real advantage for us, we took the plunge and bought it. We've since started marketing it to existing clients casually (my producer wanted to give me enough time to get up to speed on the software), and the response has been incredible! Nearly everyone has jumped on board, and has envisioned having us do MULTIPLE projects for them in the future! Learning the software, and understanding how to deploy programs for clients has been a little tough, but it has all been worth it as this is increasingly becoming a larger portion of what our business is now producing.
Avantages: -Coming to this program from a video editing background, I know next to nothing about coding; so glad that this makes it so easy! It has an Adobe feel to it, which helped me feel more comfortable navigating it. -There are lots of pre-made items (buttons, social feeds, parallaxing backgrounds, etc.) that you can download from their library... with a few clicks you can customize it to fit your client's needs, or learn from it so you can create your own items. -They offer free templates for download so you can take a look under the hood and reverse engineer functions that you want for your own projects. -The support is AMAZING. Really! Even though the main HQ is on another continent from me (luckily there is a local office in my country), they are always quick to respond, and courteous too! The support staff will also help guide you in the right direction... and if you want more input, the community board is a friendly, welcoming place to pose questions about best practices for projects.
Inconvénients: -Having to explain licenses and deployment to clients. Get ready for their eyes to glaze over. -Learning curve is a little steep; there can sometimes be a lot of math to figure out some of the more complex designs that are currently in style, but they have put out a guide that shows how you can build some of the more popular designs. If, however, your client wants a vertical orientation, and the guide is in horizontal orientation, pull out those calculators and start crunching some numbers. Support is fabulous, but I occasionally have to gently remind them that I don't understand the solution as I don't come from a coding background. They then break it down further for me. If you are dedicated and are a natural learner, you CAN learn it! Just be patient with yourself.
Source de l'avis

Publié le 19/03/2019
Utilisateur vérifié
Project manager
Logiciels, 2-10 employés
Temps d'utilisation du produit: plus de deux ans
Note globale

Facilité d'utilisation

Fonctionnalités

Support client

Rapport qualité-prix

Probabilité de recommander le produit
Source de l'avis

Publié le 24/02/2020
"FASTEST INTERACTIVE DIGITAL SIGNAGE TOOL"
Commentaires: We have created interactive content for digital singage exhibits for at least 10 years. I have seen Intuiface evolve into the intuitive solution it is today. From videowalls to tablets, touch tables and kiosks, we have used this tool for many types of content. The current solution is easy and intuitive but powerful and professional.
Avantages: The pre desgined assets, galleries and collections all of them are nicely done. The cloud deployment service is really good, it has save us a lot of time in our latest projects. The fact that you can manage from one same platform contents for tablets (ios and android), touchscreens or even traditional sigange is awesome. It really is a digital signage platform, you can see what the exhibits are playing in real time. Support is great too, they have solved all of my questions in reasonable time.
Inconvénients: Although you don't "need" programming skills, you need to learn how to use Intuiface. Computer skills are a must if you want to create beautiful and dynamic content. A few years back, we sold the content and let our clients edit it with their own composer license. They never got it, it's easy to use but the learning curve is steep.
Source de l'avis

Publié le 24/02/2020