Freedcamp
Description de Freedcamp
Freedcamp est gratuit pour un nombre illimité d'utilisateurs et de projets. L'objectif de l'entreprise est de développer un produit entièrement freemium, accessible à tous gratuitement pour la
Lire la suite
plupart de ses fonctionnalités. Les comptes gratuits sont actuellement limités à une taille de fichier de 10 Mo avec un stockage illimité pour toutes les formules. Freedcamp fournit des fonctionnalités payantes gratuitement aux organismes à but non lucratif, aux enseignants et aux étudiants. Lorsque vous créez un projet dans le logiciel, vous pouvez ajouter les composants dont vous avez besoin, comme des tâches, des jalons, des discussions, un suivi du temps et bien d'autres.
Afficher moins
Qui utilise Freedcamp ?
Freedcamp convient aux petites et grandes entreprises, aux utilisateurs d'entreprise, aux organismes à but non lucratif, aux écoles, aux particuliers et aux travailleurs indépendants.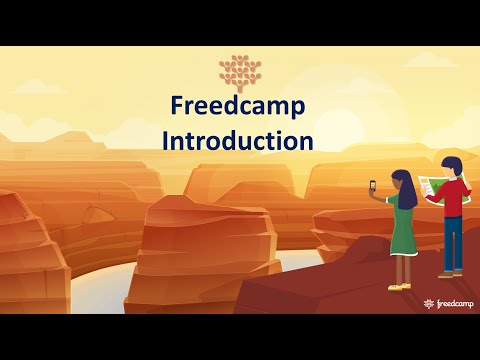 Vous hésitez à choisir Freedcamp ? Comparez-le à une autre option populaire
Indisponible dans votre pays
Version gratuite
Version d'essai gratuite
Version gratuite
Version d'essai gratuite
Pourquoi ce message s'affiche-t-il ?
Val
COO (Mexique)
Utilisateur LinkedIn vérifié
Marketing et publicité, 2-10 employés
Temps d'utilisation du logiciel : plus de deux ans
Alternatives envisagées :
Great value and great features
Commentaires : The experience was really good, as I mention before the only hassle is the user and roles management. I was able to set up my projects right away and start to focus on he actual activities.
Avantages :
One of the things that got me using Freedcamp is that the free plan its actually functional in the long run, you can do a lot in the free trier, so you can actually spend time getting to know the software and exploring it. I like that you can create as many projects as you like and you can change how you can view your project to suit the needs of that specific project. Adding task and sub task and changing the status its super easy. You just drag and drop. In general the projects are super flexible (you can add the modules you need for each project)and very easy to use.
Inconvénients :
The roles and teams are probably the only thing that's a bit complex, and how to manage that. I think there are probably to many and there are a lot of option sin how you can manage it, so that's what makes it a bit confussing.
Jos
managing director (Singapour)
Développement et commerce international, 2-10 employés
Temps d'utilisation du logiciel : plus de deux ans
Alternatives envisagées :
Freedcamp, great value for money
Commentaires : The myriad of things to think of in handling over 40 projects simultanously for sourcing and product development.Since I use project management software the productivity has gone up significanntly, not in the least because of the ease of use of Freedcamp
Avantages :
I like the ease of use for generating projects and for monitoring projects. I tried different project apps, but Freedcamp stands out; it's fast, has sufficient options and is easy to adjust, both for the admin as for each individual user. The pricing is another factor; the paid options are definitely value for money.
Inconvénients :
Missing options at this moment: - integrated email client- integrated email client- integrated email client- wechat integration- baidu cloud integrationLiterally the only thing really missingI dream of a world where Freedcamp has an integrated email client that allows the user to link emails and messages to a project, and that automatically saves attachments to the project folder.And since I work from China, where wechat is the defacto standard for all communication with providers and staff it would be great to be able to zap wechat directly to a project. Specific projects can have specific groups and have that information saved in freedcamp would be really awesome. Also all US based cloud systems are a hassle to use; they require VPN. Integration with Baidu cloud or Aliyun would be a definite advantage.
Olga
University lecturer (Pays-Bas)
Gestion de l'enseignement, 51-200 employés
Temps d'utilisation du logiciel : plus de deux ans
It was struggle, struggle and struggle again
Commentaires : See above
Switching to another tool (basecamp) was something I lobbied and asked and could support myself through my organisation but the project coordinator who liked the tool was not in favour of any changes. The project is almost over, I will be happy to forget this nightmare.
Please do more usability testing and make software user friendly!
Avantages :
The only thing I liked it that the person who implemented it seemed to enjoy all the intricacies of the tool . I can imagine that computer science background was of help to this person. Otherwise, as a user I found this the worst software package I had to use in my entire professional life.
Inconvénients :
3 years of struggle with each functionality of the tool - discussion threads, status, notifications etc. make it impossible to name one thing. I wonder whether there was any form of usability testing with new users ? I doubt it. I conquered the tool each time I needed some response from colleagues badly however it was never easy and I gave up doing an additional e-mail round to be sure the message reached the addressee.
Réponse de l'équipe de Freedcamp
il y a 2 ans
Hi! I'm sorry you had a bad experience. We rarely get complaints like these, but we will consider implementing more usability testing. I would also like to add that we have no record of you ever being in contact with our support team, so I think the 1/5 rating in that category is a bit unfair.
Khothatso
Freelancer (Afrique du Sud)
Utilisateur LinkedIn vérifié
E-learning, 2-10 employés
Temps d'utilisation du logiciel : 1 à 5 mois
Offers everything you need on one software
Avantages :
Freedcamp is a great software that meets all task and project management needs. Its convenient, customizable to fit my needs and user-friendly. I integrated my calendar and Google Drive with it and it has really helped me keep track of my deadlines and tasks and access my files a lot better. The interface is easy to navigate and not overwhelming like the apps I've used so that is a plus for me when it comes to being organised. I'm pleased with it.
Inconvénients :
Setting it up can be a bit challenging but otherwise I have no complaints about it.
Christopher
CEO (É.-U.)
Utilisateur LinkedIn vérifié
Marketing et publicité, 2-10 employés
Temps d'utilisation du logiciel : 6 à 12 mois
Alternatives envisagées :
All In One Business Management @ Amazing Prices
Commentaires : I think what impresses me about Freedcamp the most is the level of support. I asked about an automation feature I needed to maximize my workflow, and they rolled it out across the whole platform not long after! I have tons of experience with SaaS but this is next level.
Avantages :
I love how accessible the team here has made Freedcamp to just about anyone. At first this devalued the whole thing in my mind, until I started trying out the premium features. I love how responsive the team is, and how customizable the software is. Between the combination of these two things, you can achieve pretty much anything you can imagine as far as project management software goes. The enterprise features are super cool too. The custom domain is almost unheard of in this space, tie that in with the branding and wow my mind is blown.
Inconvénients :
The learning curve. There is SO many features that figuring out how to prioritize and train on the ones you want to use can be overwhelming. I think this is a good problem to have, but it must be taken into consideration especially with larger organizations