Description de Forsta
Forsta (formerly FocusVision Decipher) is the most comprehensive, yet easy to use, professional survey and reporting solution. Run a just-in-time quick poll, undertake a large-scale multi-country, multi-language study or anything in-between to get close enough to your customers to understand their thoughts and feelings and ensure their voice comes through in your data insights without being limited to prefabricated templates.
Qui utilise Forsta ?
Any one looking to quickly launch surveys, and utilize up to the minute reporting, make data-based decisions, and improve your customer experience.
Où peut-on déployer Forsta ?
Basé sur le cloud
Sur site
---
À propos de l'éditeur
Forsta
Situé à New York, É.-U.
Fondé en 1990
Assistance Forsta
Support téléphonique
Support 24/7 (réponse directe)
Chat
Pays disponibles
États-Unis
À propos de l'éditeur
Forsta
Situé à New York, É.-U.
Fondé en 1990
Assistance Forsta
Support téléphonique
Support 24/7 (réponse directe)
Chat
Pays disponibles
États-Unis
Forsta en vidéos et en images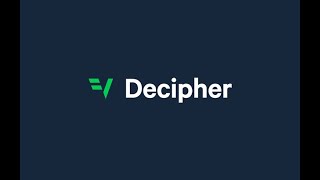 Comparez le prix du logiciel Forsta avec ses alternatives
Fonctionnalités - Forsta
Bibliothèque de questions
Collecte de réponses hors ligne
Créateur d'enquêtes
Distribution multicanal
Division des questions (question branching)
Importation et exportation de données
Logique d'évitement
Modèles personnalisables
Personnalisation des URL
Randomisation
Aastha
Sr. Project Manager (Inde)
Utilisateur LinkedIn vérifié
Études de marché, 51-200 employés
Temps d'utilisation du logiciel : plus de deux ans
Decipher Review 2020
Commentaires : Great experience. Customer service support is also very good.
Avantages :
Its very user friendly and most of the features of this tool are very easy for a programmer. Mostly Drag and Drop features are very easier and user friendly. Its one tool having all the packages i.e. Survey Programming, Data Capture, Cross Tabulation, Reporting, Dashboard. Really a great tool.
Inconvénients :
When it comes to tabulation then we have very less limit for Sig test characters. We have 26 characters i.e. from A to Z but it should support more characters, otherwise we need to divide single banner having many banner points into different banners.
Ken
Senior Programmer (É.-U.)
Études de marché, 51-200 employés
Temps d'utilisation du logiciel : plus de deux ans
Alternatives envisagées :
Easy to learn and very powerful
Commentaires : My interactions with FocusVision Decipher has been great. From the initial trying it out period to ongoing support, things have gone very smoothly.
Avantages :
The learning survey on this software is very easy. It is very similar to other software platforms used in the Market Research sector and therefore very easy to pick up.
Inconvénients :
There are some new question types that were promised that still have not come out for general use yet.
Kate
Assistant Manager - Qualitative (Global) (É.-U.)
Études de marché, 51-200 employés
Temps d'utilisation du logiciel : plus de deux ans
Data options are limited, but for a relatively simple platform it is robust
Commentaires : We use Decipher consistently, frequently every day to program the majority of our online surveys, and connect to our panel of respondents to run the majority of our work. It can be confusing for project managers who are not familiar with crosstabs to run reports and there are a few steps which do not seem intuitive if you aren't familiar, but otherwise we are able to use this to provide the majority of our services.
Avantages :
We use this to program both simple and very complex and lengthy questionnaires. The testing tools are incredibly helpful - you can view QA codes, have spell check on, and there is an option where you can see all questions on one page in your browser. That doesn't allow for testing of logic of course, it is a static page, but for checking visual/text changes/fixes it is incredibly helpful for the end user. The data exports (crosstabs) can be confusing for those that aren't used to actual data analysis/summary/tabulation, because there are many steps to get through if you just want a raw data export. However, for those more experienced, you can customize your data exports and filter within the crosstab creation. You can also re-order and add/remove data columns and save that as a custom data export (although you need high permissions to do it) which means that you can clean up the data file nicely for a client and have it export consistently throughout the field period.
Inconvénients :
There are permissions I would like to have split out for more granular control of permissions- for example, the permission to edit the export (adding/removing variables) comes with a high permission tier in which you can delete/edit projects. I would like to have those split out so the project managers can edit their data exports without also having the other permissions and the risks associated. You cannot export stacked data from Decipher such that we have to program in Confirmit when we need stacked data.
Études de marché, 11-50 employés
Temps d'utilisation du logiciel : 6 à 12 mois
Focus Vision (InterVu) allows you to moderate a focus group from anywhere
Commentaires : The team at Focus Vision (InterVu) were very friendly and helpful regarding all aspects of using the platform, the platform itself is fantastic, with loads of features, and live support on hand the whole time. my only complaint is the price quoted can be misleading and could be done better.
Avantages :
InterVu allows you to moderate a group / 1-2-1 online interview which is perfect when you have multiple respondents from different geographic locations, or a respondent who cannot come to a central location. InterVu has great features meaning the client can also watch the interview live, but as a muted user, though they can still communicate via IM on the website with the moderator. It also has features such as video sharing, screen-sharing and a virtual flipchart which mean there is almost nothing that you could do in a real face-to-face interview that you couldn't do via InterVu. The InterVu team were also fantastic at preparing the team and the respondents. they organised set-up and introduction sessions to the site, and the instructor (who also stays online throughout the interview to fix any technical issues you may have / or answer any platform questions so that you, as the moderator, don't have to) was so friendly and informative.
Inconvénients :
The set-up and pricing of the platform is a little confusing. When i first asked for costs for a 90 min video enabled interview i was sent back costs per hour for various features, so i then calculated this, only to be told later that there is a 2 hour minimum charge, so you pay for 2 hours even if you use less. luckily this was not a huge issue for our project, but this was annoying and could mess up your budgeting if you're not careful. It would be helpful if they would approach quotes in a more personal way. I would also recommend increasing the time you need for a online group interview versus an in-person one.
A. Josie
Market Researcher (Allemagne)
Études de marché, Auto-entrepreneur
Temps d'utilisation du logiciel : Essai gratuit
Sharing experiences
Commentaires : FocusVison (InterVu) is a partner for many years already and the staff is just wonderful. They make a difference when it comes to get the set-up done for any session that is possible or solve any kind of problem. From technical view - well, FocusVison is just a great platform - you get high performance in a 'simple' way. It is userfriendly and kind of self-explanatory; it makes communicating and sharing with people all over the world the most simple thing.
Avantages :
It is an easy way to communicate and share things without the need to go on an expensive and elaborate business trip. I also like the fact that there are new technologies out there, which is always interesting for me. This kind of platform allows me to share my screen, talk to a person who then is able to take over (remote control) - I don't know how to say this - but it is just funny seeing your 'mouse' running over the screen without actually moving the mouse.
Inconvénients :
It was kind of difficult for me to understand the first steps. I got an explanation / instruction - but it wasn't really helpful. I mean as a 'newbe' you need a step-by-step explanation - it has to be more elaborate to make the use feel comfortable. The instruction should show the screen as is on your laptop - you should get a list of steps what to do, like: 1. enter your e-mail address, 2. enter your password, 3. click on the left at 'my space' .... or any the like . AND you should recommend which browser is needed to get it running. Fortunately I had a technician from FocusVison that helped me to get it started.
Réponse de l'équipe de FocusVision
il y a 4 ans
Thanks so much for sharing your feedback and experience of using the FocusVision InterVu free trial. Your feedback about the initial set-up instructions is particularly helpful for us and is something we can take on board to improve. We're pleased that you found the Technical Support valuable to get your online focus group set up and started. Thank you for being such a valued customer.