ProntoForms
Description de ProntoForms
Donnez à vos employés sur le terrain les moyens d'effectuer des inspections complexes, des audits et d'autres tâches de manière fiable et dès la première visite. ProntoForms est un leader des
Lire la suite
formulaires mobiles d'entreprise. Conçu pour les équipes d'interventions, ProntoForms permet de collecter des données en temps réel, de manière précise, rapide et simple, même hors ligne. Cette solution low-code s'intègre parfaitement à vos systèmes de back-office et à vos services cloud. ProntoForms est simple à déployer, sans interruption de service et s'adapte facilement à tous les processus métier.
Afficher moins
Qui utilise ProntoForms ?
Destiné aux entreprises qui cherchent à éliminer les processus papier et à atteindre l'excellence opérationnelle. Ces clients incluent SMB aux entreprises.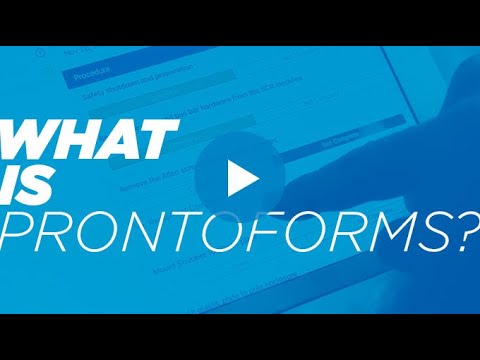 Vous hésitez à choisir ProntoForms ? Comparez-le à une autre option populaire
Indisponible dans votre pays
Version gratuite
Version d'essai gratuite
Version gratuite
Version d'essai gratuite
Pourquoi ce message s'affiche-t-il ?
Alternatives à ProntoForms
Ankur
Credit Analyst (Inde)
Utilisateur LinkedIn vérifié
Services financiers, 5 001-10 000 employés
Temps d'utilisation du logiciel : 6 à 12 mois
Alternatives envisagées :
Best-in-class mobile forms and workflow app for salesforce. Reliable and Dependable platform !
Commentaires : ProntoForms is the leading platform solution for organizing the remote workforce team systematically for supplying the data and inputs feeds in much more organized and timely manner time and again. It enables the salesforce and workforce to apply job safety measures and complete analysis without any failure and provides inbuilt template to facilitate data feeds and reporting pertaining to employee training, Preventive Maintenance, Fleet servicing and field management throughout.
Avantages :
One of the most promising app for development of workflows and mobile forms for various salesforce team across different businesses in short span of time. The mobile solution of Pronto Forms is easiest and most simplified app ever. Helps remote workforce team to gather data and inputs smartly and accurately. One of the highly innovative, smart and scalable solution for gathering data inputs in most streamlined manner without any non compliance.
Inconvénients :
As on date, no dislikes. One of the highly reliable solution for driving businesses to another level. Though, we still want more customization in features and utilities to serve our clients better. It is not very mature and often give stoppages to us while integration and linking of apps with other internal and external platforms.
Frinto
Manager-Operations (Inde)
Conseil en gestion, 501-1 000 employés
Temps d'utilisation du logiciel : 6 à 12 mois
Alternatives envisagées :
Automation of Mobile workflows and app building management through ProntoForms !
Commentaires : My overall experience with ProntoForms is best till now. It is one of the best mobile solutions for workflow streamlining along with app building in most strengthened manner so that a strong, scalable and replicable work flow and process management solution can be built around without any problem. Managing all ground operations activity and capturing of evidences from field team is now easy task and does not pose any issues in collecting primary and secondary data for businesses. Visualizing data through real time dashboards and bringing business intelligence in raw data is possible with ProntoForms .
Avantages :
The best mobile forms solution, available in the market for businesses and professionals. The strong app building management through this forms to create robust forms for field team and ground team. All the complex work tasks and work activities are managed in unified manner and can be monitored through single workflow. The ground team can take accurate input from field in these forms in effortless manner without any hustle. Pronto Forms is the one stop destination for contextualizing and customizing Health, Safety and Management aspect of training management in most easy manner possible. No trouble at all.
Inconvénients :
We are still figuring out for deploying this software in offline manner without internet connectivity. Most of our ground teams operate in remotest districts of the states and does not have any internet bandwidth or network connectivity in such regions. Real time submission of filled forms should be made available in offline manner without internet usage. Cost reduction can be further looked into for devising new low cost strategy model on usage of the ProntoForms at lowest cost possible in different business environments.
Glenn
Safety Manager (É.-U.)
Équipements publics, 201-500 employés
Temps d'utilisation du logiciel : 6 à 12 mois
Source : SoftwareAdvice
Not a fan
Commentaires : There isn't many positives I can convey. I have developed safety audits for several companies, using both Predictive Solutions and iAuditor, both of which I prefer. Pronto Forms was a program that our parent company went to and wanted to be consistent and pushed it out to all of it's subsidiary companies; so I had no choice. Creating the form was no problem, however we aren't a company that is at a site for multiple months at a time, we may only be at a project for 2-3 days, and we are constantly moving employees around, which means every time you do this, you have to update your form, then ensure all the users sync the data for it to show up before they use it again. When trying to use the data, it's pointless. You enter data on the Pronto Forms site, then you have to go to a different website to get your data. Predictive Solutions is obviously the Cadillac of Safety auditing software, the one fault with them I have is that if you have to make changes, it isn't as easy as making the changes yourself, you send them into your contact for them to make the changes. Pronto Forms gives you that freedom, I will give them that, but still, as the administrator of these forms as well as having my main job function, unless you are a company that hires someone specifically to manage the Pronto Forms entry and collection, I would steer clear. As soon as our contract is up, we will be going back to iAuditor, which is far less expensive, allows up to three user devices per user (being an admin, I have to change devices regularly, and each time, it locks me out of the other device I am using). I hate giving a company a bad review, but what we were sold on and what the final product was, is light years away from each other.
Avantages :
It's really rather simple to create a file; If you only want to create a form and just plug and play without the need for continuous updates (of say foreman, employees, etc.) then it's a pretty decent program to use.
Inconvénients :
If you have to change data in files frequently, its a pain; the analytic statistics aren't even in the same program; If you have specific customization data needed, based on site, if you have more than five sites, it's horrible to find any use of this data.
Réponse de l'équipe de Pat
il y a 4 ans
Hi Glenn, We're sorry to hear that your deployment hasn't gone as expected. Our Customer Success Team has reviewed your feedback and would love the opportunity to connect with you as we feel highly confident that after a review of your implementation and requirements we will be able to resolve the issues you've been experiencing. Please reach out to support@prontoforms.com with the subject line 'Software Advice' and we'll go from there. All the best, Pat @ ProntoForms
Dwayne
Senior H&S Coordinator (Canada)
Pétrole et énergies, 501-1 000 employés
Temps d'utilisation du logiciel : plus de deux ans
Alternatives envisagées :
Prontoforms, it just works!
Commentaires : Overall Prontoforms is the best tool we have found to automate so many work processes quickly and easily.
Avantages :
We can rapidly prototype and deploy work process automation tools to our users. Prontoforms integrates seamlessly with our back-end systems with minimal effort. The API is robust and allows for enhanced integrations.
Inconvénients :
Each time we identify an improvement opportunity with the software, the Prontoforms team goes to work solving it. Sometimes this takes time, but it is well worth the wait.
Jodie
VP, Customer Success (Canada)
Appareils médicaux, 51-200 employés
Temps d'utilisation du logiciel : plus de deux ans
ProntoForm - Field Service Excellence
Commentaires : ProntoForms is an amazing company. They provided on-going learning through portal but also through regularly scheduled Webinars. The Customer Success Managers check-up with customers on a regular basis to assess any difficulty or provide assistance with new features/functions. The platform continues to evolve providing new features on a regular basis.
Avantages :
Easy to use application to create forms and workflow to eliminate manual recording of information. Fully integrates with Salesforce for your system of record and eliminates chasing paperwork and non-readable handwriting. Capturing customer signatures into PDF reports makes it very easy to provide reports to customers while all being fully integrated in one platform.
Inconvénients :
While it may appear overwhelming at first, the initial setup was overly complicated by our organization. To combat this, ProntoForms has recently released a ProntoForms University to allow learning at your own pace and to increase the complexity only when the user feels comfortable.