Description de FreeConferenceCall.com
FreeConferenceCall.com propose des conférences audio HD et des réunions en ligne avec partage d'écran et visioconférence pouvant accueillir jusqu'à 1 000 participants. Avec plus de 40 millions de conférences chaque année, il est devenu le fournisseur de services de conférences le plus important et le plus reconnu au monde. Chaque compte inclut un nombre de conférences téléphoniques illimité, le partage d'écran, la visioconférence, l'enregistrement, des fonctionnalités de sécurité, des intégrations au calendrier, des applications mobiles et bien plus encore, le tout gratuitement.
Qui utilise FreeConferenceCall.com ?
FreeConferenceCall.com est la marque de conférence la plus reconnue au monde et compte des utilisateurs dans plus de 800 000 entreprises, dont presque toutes celles du classement Fortune 500.
Où peut-on déployer FreeConferenceCall.com ?
Basé sur le cloud
Sur site
---
À propos de l'éditeur
CarrierX
Situé à Long Beach, É.-U.
Fondé en 2001
Assistance FreeConferenceCall.com
Support téléphonique
Support 24/7 (réponse directe)
Chat
FreeConferenceCall.com - Prix
À partir de :
Oui, essai gratuit disponible
Oui, version gratuite disponible
FreeConferenceCall.com est disponible en version gratuite et propose un essai gratuit.
À propos de l'éditeur
CarrierX
Situé à Long Beach, É.-U.
Fondé en 2001
Assistance FreeConferenceCall.com
Support téléphonique
Support 24/7 (réponse directe)
Chat
FreeConferenceCall.com en vidéos et en images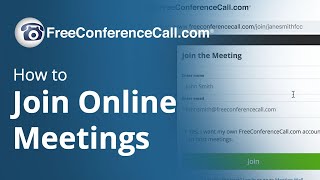 Fonctionnalités - FreeConferenceCall.com
Accès mobile
Appels audio
Brainstorming
Chat en temps réel
Chat et messagerie
Chat privé
Conférences téléphoniques
Conférences vidéo
Contrôles des hôtes
Enregistrement audio et vidéo
Enregistrement des appels
Enregistrements
Fichiers audio et vidéo bidirectionnels
Gestion de la communication
Gestion des calendriers
Gestion des marques
Gestion des réunions
Intégrations de tiers
Main levée électronique
Message vocal virtuel
Messagerie instantanée
Outils de collaboration
PBX
Partage d'écran
Partage des fichiers
Pour les petites entreprises
Rapports et analyses
Streaming de présentation
Transmission vocale en ligne
Alternatives à FreeConferenceCall.com
Avis sur FreeConferenceCall.com
Néstor
Founder (Espagne)
Utilisateur LinkedIn vérifié
Marketing et publicité, Auto-entrepreneur
Temps d'utilisation du logiciel : plus de deux ans
One of the best Webinars and Online meetings platform
Commentaires : Awesome, really awesome. People is constantly bugging me about Zoom... let them have it, I´d rather work with FreeConferenceCall instead.
Avantages :
First of all, this is one of the very, very few SaaS of this kind with no limitation on the number of participants on a given webinar or call. Let me repeat: no limitations You can also record and replay your webinars. FCC offers 1GB storage for free and let´s you manage who can access your content via password. That means you can have your perpetual webinar system set up in matter of minutes. This is one of the best features FCC brings to the table.
Inconvénients :
This is a tough one... Because all my main complaints have been solved with their latest update (like being able to share your presentation and record it). So I guess the thing I like the least is... like every new major update, there will be minor issues that the FreeConferenceCall team would have to work on. I know, I know... but the software is so good that this is no even a complaint about the software.
Alternatives envisagées : Zoom Meetings
Pourquoi passer à FreeConferenceCall.com : I´ve had a few issues when using Zoom that I´ve never experienced when using FreeConferenceCall. (lost connections, issues to access meetings...) Plus: I´ve found it easier to use than Zoom
Réponse de l'équipe de Free Conferencing Corporation
il y a 3 ans
Thank you for the awesome review Nestor and for your continued support! We are happy to read that you are enjoying all the features we offer. Rest assured that we will continue to work hard to provide you a world class service you can be proud of! If you ever have any questions or concerns, please email us 24/7 at support@freeconferencecall.com.
Josh
Director of Operations (É.-U.)
Utilisateur LinkedIn vérifié
Immobilier, 2-10 employés
Temps d'utilisation du logiciel : plus de deux ans
Easy and Reliable Phone Conferencing Solution
Commentaires : All complaints about UI aside, the best part of FreeConferenceCall.com is its simplicity. It's quick and easy for anyone with basic phone experience (i.e. almost everyone)—we call in, we enter a PIN, and then we're conferencing). What's more, it's reliable. We haven't experienced a single instance of needing to use the service and it not being available. While other conferencing solutions offered more features, FreeConferenceCall.com won out for us due to its ease-of-use, pricing structure, and consistency/reliability.
Avantages :
FreeConferenceCall.com's consistency and reliability are the most important aspects of its offerings. Our team has used FreeConferenceCall.com every Wednesday morning for the last three years. After an initial account setup that took maybe 10 minutes, we have been able to use the service without fail week over week. We call in to the same number every week, enter the same PIN code, and we get to enjoy free, clear communications with our entire team no matter where they are. There are many conferencing solutions out there, but FreeConferenceCall.com has been the most reliable, easiest-to-use platform we've ever experienced.
Inconvénients :
The user interface isn't great, if I'm being honest. We actually just learned that there are several really great features (video conferencing, recording features, etc) that would have been awesome to know about a year or two ago, but the platform doesn't do a great job of messaging those options clearly. It seems like a non-answer to say the thing I like least is the fact that they have more features than I realized, but this really is a negative for me. There have been many times since we started using FreeConferenceCall.com when a video and recording solution would have made our lives better, and instead we had to find other, more expensive alternatives simply because the extent of FreeConferenceCall.com's feature offerings weren't clear.
Alternatives envisagées : Zoom Meetings et GoTo Webinar
Pourquoi passer à FreeConferenceCall.com : Both of these services offered more features but, as I mentioned above, they were pricey and we had more technical issues than we wanted. For a small team with employees/collaborators of varying experience with technology, that ease of use was vital.
Réponse de l'équipe de Free Conferencing Corporation
il y a 3 ans
Thank you for the detailed review Josh, we truly appreciate your honest feedback. Please email us at support@freeconferencecall.com so we can walk you through on all the features available to you. We even offer free live training with one of our specialized agents to get you up to speed!
Banque, Auto-entrepreneur
Temps d'utilisation du logiciel : plus d'un an
Good Audio conferancing
Commentaires : overall a good experiance.
Avantages :
Good Audio conferancing when need to get a few people on a call in a hurry
Inconvénients :
Sometimes lines will not connect correctly.
Christopher
Market analyst (Afrique du Sud)
Utilisateur LinkedIn vérifié
Développement et commerce international, 2-10 employés
Temps d'utilisation du logiciel : plus de deux ans
Best free online conference meeting software
Commentaires : I have had the best experience here. For the passed 4 years i have never thought of changing for another software.
Avantages :
The best and most important thing about this sofware is that it is totally free to use. Apart from that, I always make around 2hours of conference meetings without any interference and they allow me to record all my meetings for free. I also like the fact that they give us a free dial in number to use for a specific country for inviting people into the meeting. There is a new feature on the software that allows us to upload our own videos and broadcast them to different platforms. I think that is one of the best features because you dont have to go out of the software and search for third parties to broadcast your stuff. Another good feature is the one that allows us to share the white screen. For people with educational purposes, this is the feature that will best work on their interest and make their work very professional.
Inconvénients :
One problem i encountered is that i can not download my recording offline for free. And again, you can not change through different themes. they only have one theme.
Muhammad
Community Manager (É.-U.)
Immobilier, 11-50 employés
Temps d'utilisation du logiciel : 6 à 12 mois
A Technology for Not Tech Savy
Commentaires : It made it easy for me and my Board members and probably many others who were struggling with the complexities of the alternatives.
Avantages :
Due to the pandemic we have switched all our on-site meetings to virtual and phone conference call meetings. Fact that i am managing around 20 communities and deal with different Board members out of which some are tech save and some are not at all. For those who were good have started using the alternative paid services lime Zoom and Go To The Meeting but i was dealing with sone Board members who couldnt schedule their meetings using these complex softwares, i came across freeconferencecall and have tested it before offering it to my clients, i would say this is the most easy and convenient conference calling software for Board or any other meetings for peoppe with less or no technical expertise.
Inconvénients :
Except for a lack of live technical support i dont see any cons.
Alternatives envisagées : Zoom Video Webinars et GoTo Meeting
Pourquoi choisir FreeConferenceCall.com : As mentioned above some Board members with less technical knowledge couldn't schedule their meetings on Zoom.
Logiciel antérieur : Zoom Video Webinars