Integrum
Description de Integrum
Logiciel QHSE risques et conformité web primé à de nombreuses reprises. Plus d'un million d'utilisateurs dans plus de 200 pays. Utilisé par des PME comme par des entreprises du Fortune 500. Fonctionna
Lire la suite
lités entièrement centralisées dans une application, pas de modules. BI et applications hors-ligne. * Gestion des incidents et des actions * Risques et conformité * Programmes, projets, tâches * Gestion des blessures, demandes d'indemnisation * Performance RH * Documents contrôlés * Gestion des fournisseurs * Système de formation et d'e-learning * Système de business intelligence * Applications hors ligne, mobilité totale * Générateur de formulaires électroniques
Afficher moins
Qui utilise Integrum ?
Pétrole et gaz, énergie, mines, construction, industrie, transport maritime, offshore, aviation, transports, industrie forestière, agriculture, ingénierie, soins de santé, soins aux personnes âgées, formation, installations, vente, gouvernement.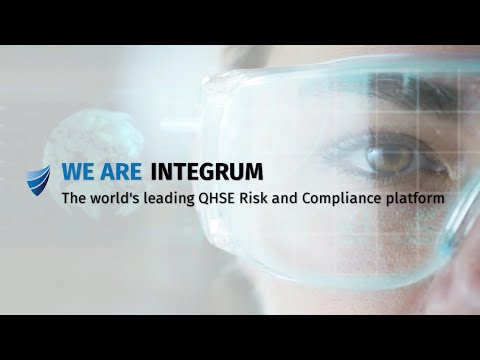 Vous hésitez à choisir Integrum ? Comparez-le à une autre option populaire
Version gratuite
Version d'essai gratuite
Version gratuite
Version d'essai gratuite
Intégrations introuvables
Pourquoi ce message s'affiche-t-il ?
Shayne
Safety Coordinator (Australie)
Construction, 5 001-10 000 employés
Temps d'utilisation du logiciel : plus de deux ans
Master Electricians Australia's Partnership with Integrum Management Systems
Commentaires : Master Electricians Australia (MEA) is a dynamic and modern trade association recognised by industry, government and the community as the electrical industry's leading business partner, knowledge source and advocate. As such, MEA provides members with a subscription based HSEQ System to help ensure members meet their obligations. The MEA safety system started as a paper based management system in 2007. In 2013 MEA made the decision to transform into a cloudbased solution for the HSEQ System. After over 12 months of searching, trialing and pressure testing prospective providers, MEA made the decision to partner with Integrum Management Systems (IMS) to develop a cloudbased integrated management system for the electrical industry and MEA Members. MEA and IMS designed and developed a system that managers:
- Incidents
- Inspections
- Risk management
- Document Registers
- Auditing
- Meeting management
- Training management
- elearning LMS; and
- Business intelligence platform The IMS platform was great value for money, highly configurable and front end user friendly. The business intelligence platform that underpins the Integrum system is invaluable to providing an indepth data analysis of what is happening within the business. I would recommend working with IMS to any business looking for a state of the art, highly configurable and innovative business management system.
Avantages :
- The highly configurable modules of the system - Easy of use - Ability to design the user interface - Ongoing development - Value for money - Business intelligence reporting platform is very powerful - Ability to make configuration changes in house rather then having to go to Integrum for changes
Inconvénients :
MEA has a unique setup, with over 2500+ different companies falling under the same overall system. This has presented challenges as the Integrum management system had not been used in this capacity before. MEA and Integrum continue to reslove issues around this. There is currently limited mobile capabilities through smartphones, this area of the system is ever improving.
Phil
GRC Officer (Australie)
Gestion d'organisme à but non lucratif, 1 001-5 000 employés
Temps d'utilisation du logiciel : plus de deux ans
Integrum White Label Review
Commentaires : Implementation of the software was successful with a very took take up from users. The reporting and analysis of information is quite straight forward.Other business units have seen the benefits of the system, which has required additional in-house development for other business functions. These have been implemented with minimal cost.
Avantages :
From a user perspective it can be very easy to use, especially for untrained workers, but is subject to how the processes are designed. The system integrated well into existing processes and gave us better analysis and reporting through the BI tool.
Inconvénients :
Integration with systems are easy, however when organisational structures are undertaken support is required from the vendor.
Samantha
National EQS Adviser (Australie)
Transport routier/ferroviaire, 10 000+ employés
Temps d'utilisation du logiciel : plus de deux ans
User Review
Avantages :
Display size for most things is fairly easy to see and read
Inconvénients :
It feels very clunky, and when using it you feel like your at an end spot to be able to move along to the next part but its not, entering an incident and creating the actions can be very time consuming and not as user friendly as you would want. duplication has been to easy to do as it can take a long time for it to load, and then i need to log back in as an administrator to remove my duplicate and others that are communicated as its a common occurrence.
Lam
Operational Risk Manager (Viêt Nam)
Compagnies aériennes/Aéronautique, 1 001-5 000 employés
Temps d'utilisation du logiciel : plus de deux ans
General review
Commentaires : So far so good
Avantages :
It is friendly using, low cost, good support...
Inconvénients :
We are just transferring from previous administration to new one, several errors happened during using. We are expecting more charts exported from the current database to provide useful details for users
Réponse de l'équipe de integrum Management Systems
l'année dernière
Thank you very much for the review
Sean
Risk Manager (Australie)
Transport routier/ferroviaire, 10 000+ employés
Temps d'utilisation du logiciel : 6 à 12 mois
Multi purpose tool that streamlines practices, removes paper-based processes and centralises data
Commentaires : We have deployed it to a rail construction project which is operating much like a startup. The ability to fill gaps in our existing processes or the the basis for development is very powerful and efficient.
Avantages :
That Super Users are able to undertake ongoing development and deployment activities without the need to involve Integrum resources. It allows the organisation to be agile in identifying a need and deploying a fix exceptionally quickly.
Inconvénients :
Visually / aesthetically it isn't the prettiest to look at, but it is built to work not look pretty.