Description de Zoho Recruit
Zoho Recruit est un logiciel de recrutement en ligne à guichet unique destiné aux entreprises de recrutement du monde entier. Les points forts de Zoho Recruit sont ses options de personnalisation, ses fonctionnalités et ses intégrations.
Caractéristiques principales de Zoho Recruit :
* Publication d'emplois sur un site web
* Publication d'emplois sur des tableaux de bords
* Importation et analyse de CV
* Portail de carrières
* Création de rapports personnalisés
* Communication par e-mail
* Envoi de SMS/messages
* Processus de recrutement personnalisé
* Recherche avancée
Qui utilise Zoho Recruit ?
Professionnels du recrutement du monde entier
Où peut-on déployer Zoho Recruit ?
Basé sur le cloud
Sur site
---
Assistance Zoho Recruit
Support téléphonique
Chat
Zoho Recruit - Prix
À partir de :
30,00 $US/mois
Oui, essai gratuit disponible
Oui, version gratuite disponible
Zoho Recruit est disponible en version gratuite et propose un essai gratuit. La version payante de Zoho Recruit est disponible à partir de 30,00 $US/mois.
Plans de tarification
obtenez un essai gratuit
Assistance Zoho Recruit
Support téléphonique
Chat
Zoho Recruit en vidéos et en images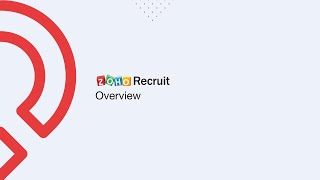 Fonctionnalités - Zoho Recruit
Acquisition de talents
Analyse de CV
Autorisations basées sur les rôles
Base de données de CV
CRM
Gestion de la conformité
Gestion de la description des tâches
Gestion des applications
Gestion des campagnes
Gestion des candidats
Gestion des e-mails
Gestion des entretiens
Gestion des flux de travail
Gestion des tâches
Gestion des évaluations
Gestion du recrutement
Intégration des employés
Intégration des médias sociaux
Marketing multicanal
Messagerie SMS
Mesure des performances
Notation des emplois
Outils de collaboration
Page Offres d'emploi
Planification des entretiens
Portail libre-service
Pour agences de recrutement
Pour les agences de recrutement
Profils des candidats
Publication d'offres d'emploi
Rapports et analyses
Rapports et statistiques
Recherche de CV
Recrutement sur les réseaux sociaux
Ressources humaines internes
Stockage des CV
Stratégie de marque personnalisable
Suivi des candidats
Suivi des candidatures
Tableau de bord d'activités
e-mail marketing
Évaluation basée sur des facteurs
Alternatives à Zoho Recruit
Kim
Founder, Consultant, and Recruiting Business Partner (É.-U.)
Utilisateur LinkedIn vérifié
Temps d'utilisation du logiciel : 6 à 12 mois
Start up business with no previous experience purchasing recruiting software/platform - Very happy!
Commentaires : Please read my review. It's faster ;)
Avantages :
With other programs, I felt restrictive with package tiers-v- budget (boxed in or obligated to spend the extra money). Whereas Zoho Recruit feels more intuitive - my learning curve follows the natural progression for wanting to expand on my business and functionality. How Zoho designed this expansion process allows the user to feel more intuitive and in control of upgrades. As a business owner, it allowed me to think of my next step and stage via expense-v-reward, and build into my business growth plan. It was something I was working towards as a business, instead of as a budget. Zoho Tech Support is awesome. I never feel as though I am a number, waiting for the tech ticket, or have information read to me from Google. Tech Support actually appears to know what they're talking about! They troubleshoot while I wait, reevaluate, and adjust until it's right. And if they can't resolve it right away, they promise they'll get back in a timely manner...AND THEY DO! It's the same Support person so the value of having established a short-term relationship is welcoming. This feels more human instead of automated and institutionalized; literally, the personal touch or white glove standard.
Inconvénients :
I don't have any cons at this time, as I am still in a learning curve with adjusting recruiting model with module mapping, etc. The process has been positive and involves a LOT of customer service. My only con would be that issues found on weekend have to be held over until M-F. That creates a bottleneck for my activity, pushing weekend tasks into the "regular" work week. Please, open up a few weekend resolution hours!
Jaideep
Head of Product (Inde)
Utilisateur LinkedIn vérifié
Services financiers, 11–50 employés
Temps d'utilisation du logiciel : plus de deux ans
Using Zoho Recruit has streamlined Applicant Management for us like no other tool
Commentaires : Overall experience with Zoho Recruit is excellent. I would highly recommend it to anyone who is serious about building a team and tracking all the candidates passing through their system
Avantages :
Zoho Recruit is an excellent Application Tracking System that has streamlined my work and made my recruiting process very efficient. Every interaction with the candidate can be traced along with the history of conversation. This help tremendously when candidates reapply. The Hiring Pipeline allows me to customize the recruiting process and keep track of how candidates are moving through the recruiting process. The workflow rules allow me to create email triggers and save time on common rule based notifications to candidates. And the auto created job postings page makes it easy for me to post new job positions and capture candidate resume and data directly into my system without writing a line of code.
Inconvénients :
Zoho's tiers are very rigid, and I would hope they would make their product more modular and allow customers to buy modules piecemeal. For a small startup, the professional and enterprise grade turn out to be very expensive, and we could easily trade some features we don't use for features we would like to use.
Kurapati
Senior Human Resources Manager (Inde)
Utilisateur LinkedIn vérifié
Recrutement, 11–50 employés
Temps d'utilisation du logiciel : plus d'un an
Simple to use, user-friendly, and sophisticated recruiting software
Commentaires : Zoho has assisted us in streamlining our recruitment process and analysing the effectiveness of our recruitment function. I can quickly post to multiple job boards without having to create multiple accounts. They assist me in optimising my job postings to attract the most qualified candidates. Assisting in the resolution of critical recruitment issues. Having all of the candidates' profiles in one place is extremely beneficial.
Avantages :
I like that it is a multi-tool. It includes everything an employer could possibly need. In comparison to other tools on the market, it is user-friendly, easy to navigate, and less complicated. One example is the seamless integration with various Zoho applications and third-party applications, which allows us to easily create a virtual recruiting environment. I can quickly connect with candidates, and if I run into any issues, I have a customer service representative who can assist me with any questions.
Inconvénients :
It would be useful if there was a way for users to gain temporary access until the recruitment process was completed. It occasionally lags, and if you leave the system open, the messenger app in Zoho One does not refresh. The tool may appear complicated and overwhelming to first-time users or users transitioning from another ATS platform to this platform.
Santé, bien-être et fitness, 2–10 employés
Temps d'utilisation du logiciel : plus de deux ans
Source : SoftwareAdvice
Be Careful selecting this software to build your business
Avantages :
Front line customer support is excellent and they go above and beyond
Inconvénients :
HORRIBLE Quality control. They keep releasing product that simply does not work!! Error codes at the very first step. And then they want you to get online with them and show them how their stuff is broken. I did this for 2 years and I am finally fed up with providing QC services to them when they CLEARLY do not have a functioning QC or testing regime. I am now 2+ years into the build out of our business and having to consider changing the core software that runs our business at immense costs in terms of time, training, business relationships etc. Not sure what I will do, maybe just screwed and have to put up with it for another 2 years. To be crystal clear, their front line support people are excellent - above and beyond and truly great to work with so it pains me to have to write this review. But fair warning their QC is BAD and you will spend a lot of time showing them how their product does not work.. Value for Dollar is good but if you expect this software to grow with you forget i. and pay a little more for something else.
Jessica
Game Programmer (É.-U.)
Utilisateur LinkedIn vérifié
Logiciels, 201–500 employés
Temps d'utilisation du logiciel : plus d'un an
Workflow-adaptable and highly interactive
Commentaires : Using Zoho Recruit, I am able to see every single one of my applicants. How far along they are, what projects they're working on, and any other pertinent details may help you steer the E2E hiring process in the right direction.
Avantages :
Depending on your specific requirements, Zoho offers a wide variety of configuration options. With tools like Deluge, Rest API, and Webhooks, developers are able to automate formerly manual processes. It's a low-cost but feature-packed answer to the problems of managing resumes, job postings, and related information.
Inconvénients :
There is little to find fault with. Some of the elements, like the portals, require some time to get used to. However, this is the case on every platform, and Zoho is not the worst option.