Description de Stata
Le logiciel statistique Stata est un progiciel statistique complet et intégré qui fournit tout ce dont vous avez besoin pour l'analyse et la gestion de données ainsi que les graphiques. Stata n'est pas vendu sous forme de différents modules, ce qui signifie que vous obtenez tout ce dont vous avez besoin en une seule fois. En outre, vous pouvez opter pour une licence perpétuelle, sans rien avoir à acheter en plus. Des licences annuelles sont également disponibles.
Qui utilise Stata ?
Stata est distribué dans plus de 180 pays et est utilisé par des centaines de milliers de chercheurs professionnels dans de nombreux domaines de la recherche. Pour en savoir plus, consulter : www.stata.com/disciplines.
Où peut-on déployer Stata ?
Cloud, SaaS, web, Mac (ordinateur), Windows (ordinateur), Linux (ordinateur), Windows (sur site), Linux (sur site)
À propos de l'éditeur
StataCorp
Fondé en 1985
Support téléphonique
Chat
Pays disponibles
États-Unis
À propos de l'éditeur
StataCorp
Fondé en 1985
Support téléphonique
Chat
Pays disponibles
États-Unis
Stata en vidéos et en images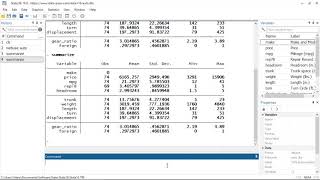 Comparez le prix du logiciel Stata avec ses alternatives
Fonctionnalités - Stata
Analyse bayésienne
Analyse de régression
Analyse de survie
Analyse de séries temporelles
Analyse en libre-service
Analyse multivariée
Analyse prédictive
Analyse statistique
Contrôle de qualité des données
Extraction de données
Importation et exportation de données
Mappage de données
Nettoyage de données
Préparation des données en libre-service
Prévision
Rapports et analyses
Rapports et statistiques
Rapports personnalisables
Simulation statistique
Visualisation de données
Rahat
Analyst (É.-U.)
Utilisateur LinkedIn vérifié
Recherche, 11-50 employés
Temps d'utilisation du logiciel : plus de deux ans
Excellent for econometric analysis.
Commentaires : There are some things that Stata does extremely well - the statistics and econometrics in particular. And it does these things reliably and fast, with a good support network. If you're willing to pay for it, performance is even better - using up to 64 cores. But for more general purpose statistical work, R is not only free, but better (even though it is more buggy).
Avantages :
This is statistical programming software that is excellent for canned econometric procedures. Reliable and fast, with a huge library of procedures built in, and an even bigger user-contributed library. Online support through the statalist forum is also amazing. It also has a matrix programming language (Mata). The graphics capabilities are also easy to use and very high quality. Has a lot of related features like heatmaps, producing production-quality regression tables, etc.
Inconvénients :
This software is expensive. You're paying for something that is reliable, tried and true, with a great support network. But there are other free options, such as R. Furthermore, while this is excellent for canned statistical and econometric procedures, the programming language itself is not anywhere near as developed as something like R. For example, work with text etc is out of the picture. It is quite un-intuitive for someone coming with a programming background, and has weird quirks - such as only being able to keep on dataset in memory at a time. These issues mean that achieving what could be achieved in 3 lines of code in another language, might take 100s in Stata.
Ryan
Senior Research Analyst (É.-U.)
E-learning, 1 001-5 000 employés
Temps d'utilisation du logiciel : plus de deux ans
Stata is really good for statistical analysis
Commentaires : Stata was really wonderful because it had a really low learning curve and I felt like it was a much better product than SPSS. It was my favorite language until I learned R. R works much better for the work I am doing now but Stata will always have a special place in my heart and I would recommend Stata to anyone who wants to start getting into data analysis but hasn't had a lot of programming training
Avantages :
I liked that the syntax of the language was really intuitive. Moving from SPSS to Stata made me feel like I could actually keep track of the code myself. I also loved that there was so much support online
Inconvénients :
Stata was really good for academic data analysis but it didn't meet all of the needs for programming data analysis. The for loops were there but not really intuitive. It was really hard to run a lot of different analyses and then compare them. That is why I say that it is really good if you are running a few analysis for an academic manuscript but I wouldn't run large scale business analyses in it
Réponse de l'équipe de StataCorp
le mois dernier
Thank you for your comments.
Rafael
Jefe del departamento de Oceanografia (Venezuela)
Utilisateur LinkedIn vérifié
Temps d'utilisation du logiciel : plus de deux ans
Acceptable statistical analysis and inference tool.
Commentaires : Although it is not the software that I normally use, especially due to the deficiencies in its graphical presentation of results, I use it frequently to compare the results it produces, against the results obtained with other software, both commercial and self-developed. This has allowed me, in many cases, to validate the results obtained.
Avantages :
Price, that although it is not cheap, if it is competitive with respect to other softwares of similar characteristics. It allows me ample freedom to customize the way of presenting the results obtained, which in general is not the best. The after-sales service is good, with regular updates and an excellent help section.
Inconvénients :
Talking with my students, the cost is accessible to people like me, but it is not for the average student, especially when the licenses must be renewed periodically. If there is something to criticize the program is the way of presenting the data, where there is a lot of improvement field, since the outputs produced by default are of limited quality and presentation, especially if you want to enter a publication. The error code messages are not very useful in order to solve the error.
John
Graduate Research Assistant (É.-U.)
Produits chimiques, 201-500 employés
Temps d'utilisation du logiciel : 6 à 12 mois
High Level Use for Econometric Analysis
Avantages :
The ability to convey complicated statistical analysis tables in a convenient and understandable way makes this product stand out among the rest. Specifically, large tables such as multi-ANOVA tests.
Inconvénients :
The pre-requisite of understanding some base level of code may pose a learning curve for new users.
Xorla
Executive Director (Ghana)
Gestion d'organisme à but non lucratif, 11-50 employés
Temps d'utilisation du logiciel : plus de deux ans
Great for Academic Research and Mid level professional data work
Commentaires : Before Stata, we were using Excel for almost all of our data work.....mostly because it was free. Switching to Stata however cut down our manual processes drastically; reducing task times by up to 80%. The main issue we ever had was with the product licencing and product access for our team. The response time in resolving the issues weren't as prompt as we would have hoped.
Avantages :
The range of functionality in the software, the free training and help resources available online, the ease of creating reports from your work, etc.
Inconvénients :
1. The software interface was a bit intimidating for me as a beginner coming from Excel 2. the computer requirements for running the software were rather high, and the devices we had at the time couldn't quite run them smoothly so we had to replace most of them.