Description de OrderWise
30 years established, OrderWise Business Management Software brings together your supply chain, order processing, stock management, financials and distribution processes into a single application held on a single database.
OrderWise can be scaled to meet the specific requirements of your business, allowing you to buy only the features you need and grow into the rest later. So whether you are a wholesaler, distributor, retailer, merchant, web trader or manufacturer, we have a solution for you.
Qui utilise OrderWise ?
OrderWise is a modular, scalable solution that is built to serve businesses of all sizes, industries and sectors.
Où peut-on déployer OrderWise ?
Basé sur le cloud
Sur site
---
À propos de l'éditeur
Wise Software
Situé à Lincoln, R.-U.
Fondé en 1991
Assistance OrderWise
Support téléphonique
Chat
Pays disponibles
Irlande, Jersey, Royaume-Uni, États-Unis, Île de Man
À propos de l'éditeur
Wise Software
Situé à Lincoln, R.-U.
Fondé en 1991
Assistance OrderWise
Support téléphonique
Chat
Pays disponibles
Irlande, Jersey, Royaume-Uni, États-Unis, Île de Man
OrderWise en vidéos et en images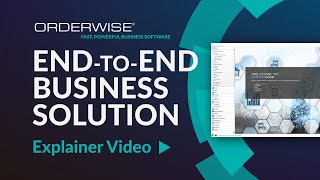 Comparez le prix du logiciel OrderWise avec ses alternatives
Fonctionnalités - OrderWise
API
Achats et réceptions
Alertes/Notifications
Audit de l'inventaire
Base de données de clients
Base de données de contacts
CRM
Catalogage/catégorisation
Codes-barres et RFID
Commandes récurrentes
Entrée et sortie
Fonctions pour vente au détail
Gestion 3PL
Gestion SEO
Gestion d'entrepôt
Gestion de l'e-commerce
Gestion de la chaîne logistique
Gestion de la qualité
Gestion des achats
Gestion des bons de commande
Gestion des canaux
Gestion des commandes
Gestion des employés
Gestion des expéditions
Gestion des fournisseurs
Gestion des nouvelles commandes
Gestion des renouvellements de commande
Gestion des ressources d'entreprise
Gestion des retours
Gestion des réceptions et entrées
Gestion des stocks
Gestion des taxes de vente
Gestion des transports
Gestion des éléments
Gestion financière
Identification des produits
Intégration de marketplace
Kitting
Optimisation des stocks
Opérations d'entreprise intégrées
Planification de fabrication
Planification des ventes et des opérations
Point de vente (PDV)
Prévision
Prévision de la demande
Prévision des ventes
Rapports et analyses
Recherche/Filtre
Saisie de commande
Suivi de l'inventaire
Suivi des commandes
Suivi des coûts
Traitement des commandes
e-mail marketing
Anthony
IT Technical Project Manager (R.-U.)
Utilisateur LinkedIn vérifié
Matériel informatique, 11-50 employés
Temps d'utilisation du logiciel : plus de deux ans
Alternatives envisagées :
A fully featured ERP solution that just keeps growing
Commentaires : Overall, we have had a positive experience with the software. It has allowed us to modify our internal processes to suit ours and our customers' needs whilst adapting with those changes easily and without large costs.
Avantages :
The software is easy to implement and Wise Software provide you with access to a full team and dedicated contact to help with migrating data from your existing system to OrderWise which helps to minimise issues. Once setup the software is intuitive to use and provides a high level of customisation on the data that you see in the grids and on the data entry screens. Their technical support is among the best in the industry with each member of staff having to undergo a 6-month training program and multiple tests before they take any calls. This means that when you talk to them, they fully understand every inch of the software and can quickly work with you to resolve any issues or guide you on the best way to achieve something.
Inconvénients :
There really is not much to dislike about OrderWise, I guess the only real thing that I think could be improved is that monthly software updates should be provided on all support packages.
Réponse de l'équipe de Wise Software
il y a 10 mois
Hi, Anthony thanks so much for your review. Nothing pleases us more than seeing our customers succeed, and so we're delighted to hear that you've had such a positive experience using OrderWise. We place huge importance on customer support, and it's fantastic that you've recognised the knowledge and expertise of these teams in particular we'll be sure to pass on your comments. Thanks for your continued partnership.
Vente en gros, 51-200 employés
Temps d'utilisation du logiciel : plus de deux ans
Alternatives envisagées :
Next Level Software
Commentaires : OrderWise has enabled Rock Fall Safety Boots to take the next step in our growth strategy. We went live with OrderWise in January 2018, opting to take all relevant modules including Accounts, CRM and Business Intelligence. We quickly added the B2B Portal to our subscription which is a huge USP for us as a business. The most impressive thing about OrderWise is their ability to keep moving forward, a vision that is very much aligned with ours. We have seen several key developments happen that have directly benefited our business in a short space of time. Our customers have seen transformational change in our service capabilities. Without hesitation we recommend OrderWise to stockholding businesses.
Avantages :
Forward thinking company All in one business management system Adaptable Modular Quick support response times
Inconvénients :
I don't see any cons with OrderWise, compared to the system we moved from everything has been better in every area.
Réponse de l'équipe de Wise Software
il y a 3 ans
Hi Richard, Thank you for your OrderWise review. We take great pride in continuously enhancing our software and have passed on your comments to our Development team. It's great to hear of the success your business has seen since going live with OrderWise! We look forward to continuing to work together, as well as providing further updates which will benefit your business. Many thanks, The OrderWise Team
Produits alimentaires, 11-50 employés
Temps d'utilisation du logiciel : 1 à 5 mois
Order-unwisely
Commentaires : Dreadful
Avantages :
Pick and pack was efficient which was pleasing
Inconvénients :
OrderWise, or Order-unwisely as our team now refer to it, appeared to offer our business an ERP solution to nearly every eventuality in a very slick sales process lead by [SENSITIVE CONTENT] . For an £80k investment you would expect the system to match our requirements. We are an omnichannel, multicurrency online retailer, and to have an ERP that integrates with every sales channel, provides inventory and order management, and then reconciles to the accounts package sounded too good to be true! And it now appears that this was exactly the case. As part of a five solutions shortlist, which included three demos from [SENSITIVE CONTENT] , we chose OrderWise in June 2021 as you offered such a complete solution and the support to successfully migrate and implement the system. However, [SENSITIVE CONTENT] overpromised and ultimately the software and team underdelivered. The list of issues with Orderwise goes on, but we don't have all day, all of which I've shared in a letter of complaint to their [SENSITIVE CONTENT] over 7 weeks ago and received no response which sums it all up, they take no care or consideration for their customers. My advice look elsewhere!
Réponse de l'équipe de Wise Software
il y a 2 semaines
Thanks for your review. It's disappointing to see your comments given the level of engagement between our team and senior members of your organisation including you having direct contact details for our Sales Director. There was an extensive process which took place to scope a solution for your requirements. To suggest that we "do not care" is not a fair reflection of our dedicated and knowledgeable team. Our records show that, following sign-off and through the implementation and go-live phases of your project, all queries were answered quickly and with mutually agreed outcomes. Had you lacked functionality that would create business-critical issues we would not have gone live with your solution. Switching and/or implementing new technology is a significant undertaking. We have several experienced professionals across our team who work closely with our clients throughout projects that has been the case here, and would have continued. We wish you all the best.
Suzanne
E-Commerce Development Manager (R.-U.)
Vente au détail, 11-50 employés
Temps d'utilisation du logiciel : 6 à 12 mois
Alternatives envisagées :
Revolutionised our business
Commentaires : The OrderWise team have been amazing. The sales team, training team, go live team and now our account manager have always been so knowledgeable, accommodating and really friendly. The effort they've all put into to knowing our business and working with us has been fantastic.
Avantages :
OW has the ability to allow the business to grow and the software will grow with us. There are so many functions that make the business more efficient now but the possibilities look endless for having software that will work with our business rather than the business work with the software.
Inconvénients :
I appreciate that there needs to be a cost involved for development but there were some requests made where I thought that the function should either be included or the cost was steep for a minor change.
Réponse de l'équipe de Wise Software
il y a 3 ans
Hi Suzanne, Thanks for reviewing OrderWise. We aim to deliver a high level of customer service across the business, so to receive your comments that this has been achieved is very rewarding to us and will be passed on to our teams. We look forward to continuing to work together as your business grows. Many thanks, The OrderWise Team
Vente en gros, 51-200 employés
Temps d'utilisation du logiciel : plus de deux ans
Alternatives envisagées :
OrderWise ERP
Commentaires : Customer Support is excellent and fast. Having OrderWise running the back end of our business has given me the confidence and time to focus on the front end.
Avantages :
OrderWise has allowed us to integrate accounting, inventory and manufacturing in a single platform. It comes with powerful reporting and once you get used to the grid system, is very easy to use.
Inconvénients :
Cost per license is quite high and at the time of writing, the manufacturing pipeline is not capable of separating WIP from different departments.
Réponse de l'équipe de Wise Software
il y a 3 ans
Hi Duncan, Thanks for your review of OrderWise. We are pleased to hear of your positive experiences using our software and with our Support service. We have passed on your requirements regarding the manufacturing pipeline to the CSM team. Once again, thank you and we look forward to continuing to work with Candle Shack. Kind regards, The OrderWise Team