Market Dojo
Description de Market Dojo
Market Dojo est une plateforme complète d'eSourcing qui inclut la Gestion des Appels d'Offres RFx, la gestion et le référencement des fournisseurs, la gestion de contrats, l'analyse des dépenses par
Lire la suite
catégorie et les fonctionnalité SRM de gestion de la relation fournisseurs. Market Dojo offre des fonctionnalités professionnelles, faciles à utiliser et à-la-demande avec une tarification transparente. Le module phare d'eSourcing est disponible pour une utilisation flexible projet-par-projet.
Afficher moins
Qui utilise Market Dojo ?
Non fourni par l'éditeur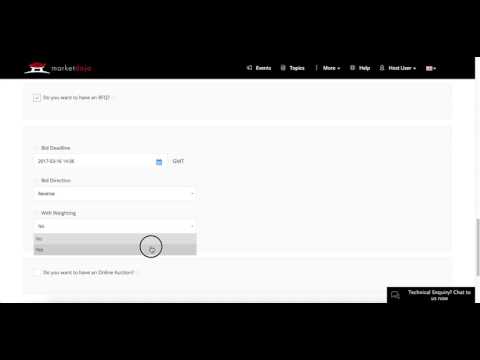 Vous hésitez à choisir Market Dojo ? Comparez-le à une autre option populaire
Version gratuite
Version d'essai gratuite
Intégrations introuvables
Version gratuite
Version d'essai gratuite
Pourquoi ce message s'affiche-t-il ?
Alternatives à Market Dojo
Pierre
Acheteur Manfacturing (France)
Matières plastiques, 1 001-5 000 employés
Temps d'utilisation du logiciel : 1 à 5 mois
Market Dojo chez SULO Group
Commentaires : Apporter plus de concurrence dans des appels d'offres avec l'utilisation des enchères.
Avantages :
Intégration très facile. Facile d'utilisation pour les fournisseurs. Très bon suivi de la part des équipes Market Dojo.
Inconvénients :
La création des grilles tarifaires demande un peu de temps lors des premiers appels d'offres mais après une ou deux fois, le système est très facile d'utilisation.
ghislaine
responsable des approvisionnements (Allemagne)
Automobile, 11-50 employés
Temps d'utilisation du logiciel : 1 à 5 mois
Excellente Solution
Commentaires : Belle expérience, qui nous a permis d'obtenir des économies.
Avantages :
Très simple d'utilisation, avec des conseils utiles sur tous les domaines. Un soutien utile, amical et engagé.
Inconvénients :
Sans objet. Nous avons constaté qu'il était un très bon outil.
Peter
P.Schmidt Consultancy Services B.V. (Pays-Bas)
Utilisateur LinkedIn vérifié
Télécommunications, Auto-entrepreneur
Temps d'utilisation du logiciel : plus de deux ans
Procurement in the Cloud
Commentaires : Not only the solution is great but also the people have been very helpful. Another thing that makes Marketdojo stand out in the crowd is their unique and affordable pricing model that shows that they understand the mechanics of the Cloud. There is absolutely no business risk as the rewards are a multifold of the fee that needs to be paid. Marketdojo also leverages the meta data from their SAAS platform to help their customers to see what the best practices are by publishing these views, which helps to augment results.
Moreover they continue to enhance the platform and they gave created an Api to allow for integration with third party platforms.
Avantages :
My first E sourcing project as a consultant was for a firm that used one of the leading ERP sourcing solutions. This solution was complicated due to the endless features for which purpose we needed external consultants who were proficient with the system. As I saw that e-procurement software drives efficiency, one of my first thoughts was whether this could not be done any simpler. So I conducted a Market survey and I encountered Marketdojo. I was stunned by the user friendliness of their application that could be tested in their sandbox. Conclusion I did not need any additional consultants to drive an E sourcing event.
Inconvénients :
There are really no cons. The real cons are the people who do not understand that SAAS helps them immediately to establish savings in their procurement process, without really worrying about whether the software is a fit within the company. It is a highly secured SAAS solution, that does not pose any threat to company' s resources and there is absolutely no customer lock-in.
Christopher
Head of Procurement and Supply Chain (Suisse)
Immobilier, 5 001-10 000 employés
Temps d'utilisation du logiciel : plus d'un an
Alternatives envisagées :
Tremendous value for money, superfast deployment, excellent customer service and partnership mindset
Commentaires : Market Dojo is a no-nonsense, credible provider of a tool, which delivers a measurable value and a clear operational advantage. Pricing is sensible, the motivation of the team is excellent, and foremost, I appreciate the partnership thinking of Market Dojo.
I would use Market Dojo again in a variety of procurement contexts.
Avantages :
Market Dojo provides a pay per use e-sourcing tool. As such they are offering a niche solution, which has potential to appeal to a wide variety of buyers, even if they already have a procurement suite in place. I was after a tool which I could deploy rapidly, avoid systems integration altogether and minimize the time required for training. Market Dojo fulfilled all these criteria. 1) The negotiation process was pleasant, accommodating, with fast turn-around times, win-win orientated and provided a basis which allow me to recover the cost in weeks. 2) The tool was easily deployed, partially supported by the fact that it was cloud-based. E from the customer services team did an outstanding team training my team, and connecting it to our existing tools from Per Angusta. 3) Market Dojo was always there to answer questions and was very supportive in the process. We overstretched the used versus what we had agreed, however, Market Dojo has the success of its customers in mind, and does not fuzz about the boundaries too much.
Inconvénients :
Overall, deploying Market Dojo at IWG, where previously no e-sourcing tool was in place, was a great success. I have nothing to complain about. One detailed piece of functionality, which I would wish Market Dojo to focus on, is the ability to export eRFP results with less need to format the tabular data. Market Dojo is aware of this, working on it, and I look forward to the results.
Graham
Procurment Development Manager (R.-U.)
Services et technologies de l'information, 5 001-10 000 employés
Temps d'utilisation du logiciel : plus d'un an
Sopra Steria's experience with Market DoJo
Commentaires : The overall experience using Market DoJo software and working with the team has been very positive and very rewarding. Our new Supplier On Boarding process has been singled out as a successful innovation by external auditors in the race to continual improvement Supplier Relationship Management. We now optimistically look forward to more extensively deploying market DoJo Sourcing and Quick Quote.
Avantages :
Market DoJo offered Sopra Steria a focussed, low entry cost, rapidly deployable cloud solution to the problem, then not available from any other supplier, of digitising the continual complexity of supplier on boarding without too much frustration and cost to a new supplier. Market DoJo enthusiastically supported Sopra Steria with innovative ideas to successfully secure an internal business and investment to save time, eliminate use of paper, centrally record and manage supplier responses and significantly reduce the need for the manual coordination of emails, Word files, Excel files and signed documents through the post. We are now taking advantage of the data collected to approach existing suppliers to gain formal agreement to GDPR and our Sustainable procurement principles.
Inconvénients :
Having worked with Market DoJo to create very useful and simple solutions there is a growing need to able to extract data easily to create reports. Currently the reporting aspect of Market DoJo could be improve, possibly using new BI tools enabling us to easily extract to combine and compare data.