Description de Dealerify
Dealerify is a professional platform for trading, copy trading, and auto-trading. There are so many diverse and significant services on this platform that can be useful for each level of trading. Dealerify wants to make trading in the cryptocurrency world pleasant and profitable for all people and traders at every level.
Qui utilise Dealerify ?
Cryptocurrency
Où peut-on déployer Dealerify ?
Basé sur le cloud
Sur site
---
Assistance Dealerify
Support téléphonique
Support 24/7 (réponse directe)
Chat
Pays disponibles
États-Unis
Assistance Dealerify
Support téléphonique
Support 24/7 (réponse directe)
Chat
Pays disponibles
États-Unis
Dealerify en vidéos et en images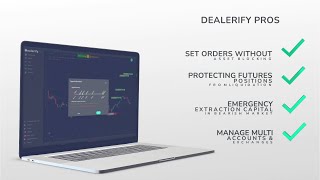 Comparez le prix du logiciel Dealerify avec ses alternatives
Fonctionnalités - Dealerify
Analyse des tendances
Données en temps réel
Envoi et réception de cryptomonnaie
Gestion des portefeuilles
Revenu et bilan comptable