Description de isoTracker Document Management
Logiciel sur cloud de contrôle de document rentable et sans frais d'installation, idéal pour les petites et moyennes entreprises. La solution comprend un référentiel de documents central, des outils de flux de travail intégrés qui automatisent les processus de révision et d'approbation des documents, des notifications automatisées par e-mail, ainsi que des analytiques et des rapports intégrés. Vous pouvez l'associer à d'autres modules isoTracker pour fournir un système QMS complet.
Qui utilise isoTracker Document Management ?
Tous les secteurs d'activité à l'échelle mondiale
Où peut-on déployer isoTracker Document Management ?
Cloud, SaaS, web
À propos de l'éditeur
isoTracker Solutions
Situé à London, R.-U.
Fondé en 2004
Support téléphonique
Chat
isoTracker Document Management - Prix
À partir de :
127,07 $US/année
Oui, essai gratuit disponible
Non, pas de version gratuite
isoTracker Document Management n'est pas disponible en version gratuite mais propose un essai gratuit. La version payante de isoTracker Document Management est disponible à partir de 127,07 $US/année.
À propos de l'éditeur
isoTracker Solutions
Situé à London, R.-U.
Fondé en 2004
Support téléphonique
Chat
isoTracker Document Management en vidéos et en images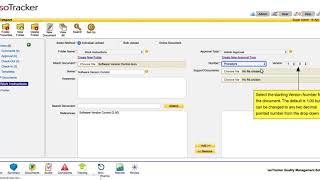 Comparez le prix du logiciel isoTracker Document Management avec ses alternatives
Fonctionnalités - isoTracker Document Management
Archivage et rétention
Classification des documents
Contrôles/Permissions d'accès
Conversion de fichier
Gestion de versions
Outils de collaboration
Partage des fichiers
Stockage de documents
Suivi de la conformité
Alternatives à isoTracker Document Management
Avis sur isoTracker Document Management
Nicola S.
QHSE Manager (R.-U.)
Pétrole et énergies, 11-50 employés
Temps d'utilisation du logiciel : plus de deux ans
Iso Tracker Document Control
Commentaires : Before we utilised the ISO Tracker system fully it was difficult to manage documentation. We regularly found ourselves scrapping around after discovering certain elements of our Safety Management System were overdue review. After the initial effort in implementing our full document package onto the ISO tracker it has become a much better organised and effective process.
Avantages :
I find ISO Tracker simple and easy to use but also very effective in maintaining an accurate Safety Management System. It allows me to keep up to date with all required document reviews with ease and has become an invaluable tool in my day to day duties.
Inconvénients :
I can not think of anything negative about this ISO Tracker software.
Purnendu B.
Sr. QA Engineer (É.-U.)
Cosmétiques, 201-500 employés
Temps d'utilisation du logiciel : plus de deux ans
We selected ISO Tracker as we felt we got value for money for the number of users we planned to have
Commentaires : We were able to have a web based software that could be applied to multi-sites. We uploaded our procedures, SOPs and forms into ISO Tracker and are able to manage the documentation as required by ISO. Software has revision history that helps as well.
Avantages :
The software allows read/write and read users which makes it easy to control who can write into the system. Good approval process as well as accessibility that is web based (so can login from anywhere). Do not have to worry about database backup and support is great. Also, you can use this software for multi-sites.
Inconvénients :
The software is limited in that the number of users are pre-determined for us. Adding additional users lead to some additional cost. This is not software limitation, however.
Nola G.
finance / compliance (Australie)
Gestion d'organisme à but non lucratif, 11-50 employés
Temps d'utilisation du logiciel : plus de deux ans
Does the job. Easy to use. Glitches seem to be quite a regular occurrence but value for money
Commentaires : Version control which was a necessity for audit compliance. Stopped others from making multiple copies of documents and using old versions. Stricter control
Avantages :
Dashboard, permissions and the overall look. Good version control, able to write comments, provides protection from others changing and saving documents that have not gone through the approval process. Very good customer service response times when issues occur
Inconvénients :
Definitely do not like the bold print with Document name, number and version on the top of each document. It really takes away from the presentation of the document. Looks awful. Would like this moved to the bottom of a document and shaded. Only to apply to the first page.
Réponse de l'équipe de Lennox Hill
il y a 5 ans
We discovered 2 years ago a slowness issue from our Australian customers. The feedback was initially difficult to investigate as internet is not always good in Australia but once it was identified as a server latency issue from our European servers we set-up a server structure in Australia and there have so far been no further issues. The matter with the header in the PDF documents was raised by the customer at the time of our last major upgrade. We also explained that the further requested changes would be made at the next upgrade unless the customer would pay for the extra work to have it implemented ahead of the upgrade. In fact another customer has paid for the changes and ATC Work Smart has had that code change implemented on their account.
Koen J.
Product development and product quality manager (Pays-Bas)
Appareils médicaux, 11-50 employés
Temps d'utilisation du logiciel : plus de deux ans
Helped us getting grip on documents
Commentaires : isoTracker Document Control helps us getting grip on all documents related to a Medical Device manufacturer, meeting the designated regulations (i.e. keeping and updating the Technical Files) and meeting the ISO 13485 requirements of document control.
Avantages :
The logging of all changes to a document; Being able to view/download all earlier versions;
Inconvénients :
The interface could be more user-friendly; The design looks dated, could use a more modern look and feel;
Stan S.
Managing Director (É.-U.)
Machines, 51-200 employés
Temps d'utilisation du logiciel : plus de deux ans
Software has worked as advertised. Service when problems arise is exceptional.
Commentaires : Automated drawing control. Acts electronically the same way an old-fashioned paper drawing office does. Allowed us to demonstrate strict document control to outside agencies auditing us on a regular basis.
Avantages :
Archive feature. Email notifications. Cloud storage. Folder-based file organization structure. Software is fast.
Inconvénients :
Occasional (infrequent) glitches. British language convention (only in a few spots). Not really anything else I can think of!