Description de Accord LMS
Accord LMS possède les fonctionnalités avancées nécessaires à l'exécution de programmes de formation étendus de grandes entreprises, à un prix abordable pour les petites et moyennes organisations. Des fonctionnalités intelligentes automatisent les tâches d'administration répétitives. Le nombre illimité de rôles d'apprentissage permet à chaque utilisateur de profiter d'une expérience d'apprentissage personnalisée en fonction de ses besoins spécifiques. L'assemblage de cours facile, avec création de questionnaires et d'enquêtes, prend en charge des expériences d'apprentissage convaincantes à l'aide de SCORM, de vidéos, de documents en ligne, de cours en direct, etc. Planifiez une démo gratuite aujourd'hui.
Qui utilise Accord LMS ?
Accord propose une solution pour gérer la formation du personnel, des clients ou de plusieurs groupes d'apprenants. Ses fonctionnalités économiques et flexibles séduisent les petits services de formation et les grandes entreprises.
Où peut-on déployer Accord LMS ?
Basé sur le cloud
Sur site
---
À propos de l'éditeur
Accord LMS
Situé à Boise, É.-U.
Fondé en 1996
Assistance Accord LMS
Support téléphonique
Support 24/7 (réponse directe)
Chat
Pays disponibles
Australie, Canada, États-Unis
À propos de l'éditeur
Accord LMS
Situé à Boise, É.-U.
Fondé en 1996
Assistance Accord LMS
Support téléphonique
Support 24/7 (réponse directe)
Chat
Pays disponibles
Australie, Canada, États-Unis
Accord LMS en vidéos et en images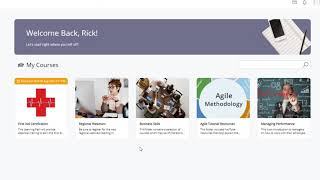 Comparez le prix du logiciel Accord LMS avec ses alternatives
Fonctionnalités - Accord LMS
Alertes/Notifications
Apprentissage asynchrone
Apprentissage collaboratif
Apprentissage mixte
Apprentissage mobile
Apprentissage synchrone
Bibliothèque de contenu
Certification et licences
Classe virtuelle
Conformité SCORM
Création de cours
Création de cours intégrée
Gestion de contenu
Gestion de l'apprentissage
Gestion de l'e-commerce
Gestion des cours
Gestion des formations
Intégrations de tiers
Parcours et suivi d'apprentissage
Portail des apprenants
Profils des employés
Rapports et analyses
Relevé de notes
Stratégie de marque personnalisable
Suivi de la conformité
Suivi des cours
Tableau de bord d'activités
Tests et évaluations
Alternatives à Accord LMS
Marie
Utilisateur LinkedIn vérifié
Temps d'utilisation du logiciel : 6 à 12 mois
Source : GetApp
Accord ranks #1 in support, price, and functionality!
Commentaires : My company first began our investigation into various Learning Management Systems a little over a year ago. After an initial introduction to Accord through Capterra, we quickly narrowed down our selections. Accord LMS remained our number one choice until we were ready to finalize the purchase. Though this was a lengthy process on my own company's end (approx. 12 months), our representative Mary Beth was nothing short of amazing as she remained patient, supportive, and enthusiastic. Mary Beth was always on hand to provide updates, answer questions, and consistently connect us to Solutions Engineers to provide insight into features of Accord that best benefited our company. We have been using Accord now for 6 months and have no complaints. Accord ranks #1 in support, price, and functionality in the world of LMS! Many thanks for the continued support!
Avantages :
Since we are utilizing Accord to connect various independent distributors, Accord's ability to provide Admin capabilities for over 40+ individuals is unmatched. The organization of levels of employees, as well as automatic reports sent to management is easy to understand and extremely effective.
Inconvénients :
Thus far, nothing to report
Logiciels
Temps d'utilisation du logiciel : plus de deux ans
Source : SoftwareAdvice
Accord LMS: Flexible, Valuable and Reliable.
Avantages :
Our client company licensed the Accord LMS several years ago to train temporary employees. The courses we implemented guide the employees to understand the business model, consider specific aspects of their new role, and train them to interact with the business system. Some of the content in the courses is confidential, and the Accord implementation helps to limit access to that content by limiting enrollment based on security roles. Courses are designed using the SCORM standard, which allows course development to be done independent of the LMS. The courses have loaded and interacted with Accord very well, correctly reporting quiz scores and completion status. Accord has been a very stabile product, requiring very little administrative attention. Our version of the product has a limit on the number of active learners, so we have had to monitor our usage and either limit the number of learners or adjust the license to fit our needs. We have directed several special requests to the sales department with regard to licensing, and each time they have accommodated our needs. We have found them a good partner to work with. We have kept the software on a maintenance contract throughout, and have generally found this to be a good value. While service requests have been minimal, there have been some key times during software upgrades where we have placed service requests. These were answered quickly and our issues were resolved. The cost of the maintenance contract has increased sharply, and this has caused us some concern. In summary, we have found the Accord LMS system to be flexible, valuable and reliable.
Inconvénients :
We were recently surprised by a significant increase in the maintenance contract cost.
Réponse de l'équipe de Rick
il y a 6 ans
Thank you for taking the time to write such a thorough review. I'll pass your comments onto the entire team. Our price increase in January 2016 was the first in 4 years. For our hosted accounts, which include maintenance, it was only a modest increase. Our self-hosted customers did experience a more substantial increase. This reflects the additional support requirements that factor into most on-premise installations such as client server access, configuration, updates, etc. This may be why most of our competitors do not offer self hosted systems. I'm confident that you will still find the Accord LMS to be the best deal around.
Riyaz
Global Director of Training (É.-U.)
Logiciels, 501-1 000 employés
Temps d'utilisation du logiciel : plus de deux ans
Accord LMS - Minor league player trying to play in the majors.
Commentaires : We inherited Accord LMS when we merged with our sister company. Even though we asked, we never received the onboarding experience you would normally get when implementing a new system. Accord LMS worked for our employees and customers however, the experience did not keep up with end-user expectations.
Avantages :
An excellent account management team who responds to all queries and concerns as needed. The product works reasonably well, especially if you don't need any fancy design changes.
Inconvénients :
Customization requires professional services or knowledge of DNN. Not much documentation or assistance from the company. User management, reporting, and course management work until you want in-depth functionality that most other systems have - out of the box.
Réponse de l'équipe de Accord LMS
il y a 2 ans
Hi Riyaz, Thanks for your feedback. We genuinely appreciate it. Your positive review of our account management team reflects the feedback we get from most clients. We think that they're the best. Your feedback on our documentation was insightful. We are currently in the process of updating our online manuals and dozens of support and training videos to be both easier to follow and more integrated with the product itself. I'm sorry that you weren't able to get all of the customizations that you were looking for. As an LCMS, the Accord solution is among the most configurable platforms available, but some things can be more challenging or even out of the system's scope. It's our goal to provide our clients with the best LMS experience for their unique needs. It sounds like we might not have remained the right fit for you after your mergers. We hope that you found the best solution for your training priorities. Thanks again, Accord Product Team
Musique, Auto-entrepreneur
Temps d'utilisation du logiciel : 6 à 12 mois
Nice for creating lms
Avantages :
It is very easy to install and configure and has a functional interface.
Inconvénients :
In fact, there is nothing that I do not like, I use it with pleasure, but the price may be a little high.
Candace
Consultant (É.-U.)
Enseignement primaire et secondaire
Temps d'utilisation du logiciel : plus d'un an
Source : SoftwareAdvice
Review of Accord LMS
Avantages :
AccordLMS provides all of the expected LMS capabilities. The installation and upgrade of this product is simple. The administration is easy, customization is good, and the customer service is excellent. The eCommerce piece is robust and the system allows for multiple portals sharing courses from master to child. The system allows for free access (such as for internal training) as well as purchased access (for external sales, either individual or subscription).
Inconvénients :
One client that I worked with had too many sub-folders for their courses, and this caused performance issues (this may have been addressed in latest release). Also, if you need detailed quiz reporting (down to the individual question and answer level) you must build your assessments with Articulate, as AccordLMS has custom code to extract their reporting details.
Réponse de l'équipe de The Accord LMS Team
il y a 7 ans
The Accord provides detailed quiz reporting for ALL assessments that provide the information, not just those authored with Articulate. Some assessments, from other authoring tools, do not provide detailed quiz information which makes it impossible for the LMS to report it. Concerning sub-folders, our current version is supporting clients with over 10,000 courses and sub-folders with excellent performance.