Description de SutiHR
Une solution RH de bout en bout pour les entreprises de toutes tailles. Une interface utilisateur intuitive avec support mobile qui évolue avec votre organisation. SutiHR fournit de nombreux outils : intégration et libre-service des employés, ATS (Applicant Tracking System) et du personnel, signatures électroniques intégrées, gestion du temps, évaluations de performance, avantages, suivi de projet et gestion informatique. Son reporting et son analytique performants vous placent les données à portée de main. SutiHR rend les employés plus heureux tout en offrant un gain de temps et d'argent.
Qui utilise SutiHR ?
Tous les types de secteurs
Où peut-on déployer SutiHR ?
Cloud, SaaS, web, Windows (ordinateur), Android (mobile), iPhone (mobile), iPad (mobile)
À propos de l'éditeur
SutiSoft
Fondé en 2009
Support téléphonique
Support 24/7 (réponse directe)
Chat
Pays disponibles
Allemagne, Canada, Inde, Royaume-Uni, États-Unis
À propos de l'éditeur
SutiSoft
Fondé en 2009
Support téléphonique
Support 24/7 (réponse directe)
Chat
Pays disponibles
Allemagne, Canada, Inde, Royaume-Uni, États-Unis
SutiHR en vidéos et en images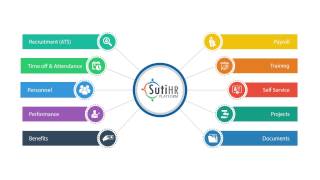 Comparez le prix du logiciel SutiHR avec ses alternatives
Fonctionnalités - SutiHR
Accès mobile
Alertes/Notifications
Analyse de CV
Auto-évaluation
Base de données des employés
Bibliothèque de questions
Calcul des heures supplémentaires
Changement d'équipe
Configuration et suivi des objectifs
Conformité fiscale
Contrôle du processus d'approbation
Développement de carrière
Enquêtes et feedback
Facturation
Feedback en continu
Feedback à 360 degrés
Formulaires E-Verify et I-9
Formulaires électroniques
Gestion d'orientation du flux de travail
Gestion de la formation
Gestion de la paie
Gestion de la relève
Gestion des calendriers
Gestion des candidats
Gestion des compétences
Gestion des congés
Gestion des cours
Gestion des e-mails
Gestion des employés
Gestion des entretiens
Gestion des feuilles de temps
Gestion des flux de travail
Gestion des objectifs
Gestion des performances
Gestion des rémunérations
Gestion des tâches
Gestion des évaluations
Gestion des évaluations de la performance
Gestion du recrutement
Heures facturables et non facturables
Intégration des employés
Intégration des médias sociaux
Intégrations de tiers
Manuel de l'employé
Mentorat
Mesure des performances
Mises à jour en temps réel
Modèles d'e-mails
Organigrammes
Page Offres d'emploi
Parcours et suivi d'apprentissage
Planification
Planification automatisée
Planification de la relève
Planification des entretiens
Planification du personnel
Plans de développement individuel
Pointage
Portail des apprenants
Portail des employés
Portail libre-service
Profils des candidats
Profils des employés
Prévision du travail
Publication d'offres d'emploi
Rappels
Rapports et analyses
Rapports et statistiques
Recherche de CV
Réservation en ligne
Saisie automatique du temps
Stockage des CV
Suivi continu de la performance
Suivi de la conformité
Suivi de la progression
Suivi des candidats
Suivi des candidatures
Suivi des compétences
Suivi des congés
Suivi des congés maladie
Suivi des cours
Suivi des cycles d'évaluation
Suivi des vacances/congés
Suivi du temps
Suivi du temps en ligne
Synchronisation du calendrier
Tableau de bord
Tableau de bord d'activités
Évaluation des compétences
Évaluation par les pairs
Sharon
Director, HR (É.-U.)
Utilisateur LinkedIn vérifié
Produits chimiques, 11-50 employés
Temps d'utilisation du logiciel : 1 à 5 mois
Great investment!
Avantages :
I love that we now have an all in one platform for every HR need - and if you do not have a need for a certain module, you don't have to purchase it! We have launched each module separately. and that has worked well for our team.
Inconvénients :
The software admin functions are not very intuitive and a little clunky. That said, the support team is phenomenal! They are very attentive and knowledgeable and respond to our needs very quickly.
Shannon
Director, People and Culture (Canada)
Gestion d'organisme à but non lucratif, 51-200 employés
Temps d'utilisation du logiciel : plus de deux ans
Alternatives envisagées :
I used Suti HR in a previous organization. It's so good, I am launching in my new company!
Commentaires : I have been involved in several large-scale system implementations (of HRIS systems, ATS systems, and the HR side of an ERP) in my HR career. I have implemented and/or worked with NJOYN, Taleo, Oracle, Peoplesoft, Sage, and Suti (twice). Of all of the systems I've used and the vendors I have worked with, Suti has eclipsed them all in their flexibility, and the ability to fit the needs of the business! Kirsten, as our implementation partner, has been outstanding. She is responsive, solutions-oriented, and has this incredible "can-do" attitude with every crazy request. We've had such a good experience that we are now investing in Sutisoft for our Accounts Payable and Employee Expense solutions!
Avantages :
I am a Director of People and Culture (HR) for a medium-sized non-profit organization. I launched Suti-HR as a cost-effective solution for effective time tracking in my previous organization, and quickly found it did so much more than that for us. When I changed companies, and realized we needed to implement a new HRIS as the current one didn't meet our needs, there was no question I wanted to work with SUTI-HR again! There is so much to like about this system! It is user-friendly and it supports all of the core functions of a comprehensive HR system at a fraction of the cost. I think the real differentiator with Suti, though, is the SERVICE. They are committed to understanding the needs of the client, and will build the system around your business needs, rather than forcing you to change your business to adapt to a system. It is a highly reliable, secure, cloud-based solution with a vendor who will work hard to support your business. I am happy to be a client of Suti for the second time around!
Inconvénients :
I am struggling to come up with a "con". I think maybe the fact that the system is SO flexible, it can be a lot to learn for the administrator. However, they've provided training videos that teach you what you need to know, and will always take a call to support you when you need it. Again, I liked the system enough after using it for almost 6 years in my previous organization that it was the system of choice in my new agency.
Jodie
HR Assistant (Canada)
Verre, céramique et béton, 51-200 employés
Temps d'utilisation du logiciel : plus d'un an
Is it Worth It?
Commentaires : Time and Attendance , and Performance Review, in one system
Avantages :
SutiHR has almost all the HR features that we are looking for. Applicant Tracking, Time and Attendance, Performance Reviews, etc. Price-wise, it is affordable compared to other HRIS. It also tries to improve their system as much as possible like adding "partial time off" ability to Time Off Request.
Inconvénients :
However, it is not user friendly per the feedback from our staff. And we have requested to add one more tab in the benefits section but it wasn't still there, even after a year of waiting. When issues occur, the customer support takes time to reply and resolve it. Sometimes, after their update, the system gets messed up that was hard to figure out.
Rikki
Vice President Human Resources (É.-U.)
Utilisateur LinkedIn vérifié
Services et technologies de l'information, 51-200 employés
Temps d'utilisation du logiciel : plus d'un an
All in One, just like an HR Generalist
Commentaires : So glad we found SutiHR and it contains all the modules we will need as we grow and evolve. Several HRIS would not do business with us until we reached a certain number of employees. I did not want to start with one HRIS and then move to another once we grew bigger. Plus they have amazing support, we have even got calls from the company President asking how things were going, ideas for improvement, and thanking us for being their customer.

Additionally, our technical employees who are very particular about applications/systems even give this a thumbs up. So I will consider this a huge win from my internal customers, HR serves each day.
Avantages :
The biggest pro is their customer support response to our requests for enhancements to the software. As our company grows and changes we have evolving needs of the various modules. Our account executive listens to understand what business obstacle we are facing and then gets to work with the development team on a solution. In my 15+ years of HR I have never had an HRIS vendor partner respond so quickly, in the past I was told to put in a ticket to the end user-group que and wait to see if makes the list of items for the next version. We recently submitted a need to get our timekeeping reports built differently, by the end of next pay period it was done. This made processing timekeeping much faster, more accurate, allowing us to spend time on other HR activities. Second pro, all the modules are included in the price you get quoted, allowing me to be much more confident in my HR Budgets. Also, we have the freedom to roll-out each module as it makes sense for our company. Third pro, employee self service. Our teammembers love the mobile app for timekeeping and using the address book to easily call a colleague. Our teammembers travel a lot so this functionality is a huge plus, one we did not find
Inconvénients :
Con, additional focus on compliance related items and reports can be improved. HR is heavily legal related and the data and the way it is collected, stored, and who has access to view are important items to continue to consider as well as any impact of changing laws. Happy to report, any concerns we have had have been quickly resolved by our great SutiHR Account Executive.
Paula
Executive Director (É.-U.)
Gestion d'organisme à but non lucratif, 11-50 employés
Temps d'utilisation du logiciel : 1 à 5 mois
Mixed feelings
Commentaires : We are happy to have all of our HR information in one place, but still have not been able to fully utilize all the features for lack of instruction and information, as well as ongoing glitches that have not been fixed. While the support was very good initially, over time support has been harder to access and slower to respond. We have had several support tickets pending for several weeks or months, and still have a new hire that we have not been able to convert to an employee after more than a month.
Avantages :
We love the look and feel of the interface. The dashboards are nicely organized. All of the features offered are exactly what we were looking for in an HR platform. We especially like the recruitment-to-onboarding, and the performance review features.
Inconvénients :
The set up of the system is not user friendly and there are no written guidelines for setup. We have had to rely on Suti support to set things up, but we have found that we must know exactly what we are trying to accomplish. In other words, the system does things that we had not imagined, but we were not freely offered those features and set up until we specifically asked for information in those areas. Even then, the instruction received did not include best practices on how to use the features. For example, the recruitment feature is very powerful, but requires very specific steps to move to each new phase of the process. That information was not provided when the feature was set up and we have had to learn through trial and error instead of having a concise written procedure for how to access some of the information and move through the process. It is quite confusing. The same goes for the Benefits enrollment feature. Lastly, we were told that a time block feature would be added to the time management so that we could enter time as blocks of time worked rather than start and end times. That was originally scheduled for the end of 2017 and still has not happened.
Réponse de l'équipe de SutiSoft
il y a 4 ans
Hi Paula, Thank you for your feedback! Customer feedback is very valuable as it helps us to evaluate our processes and make plans for improvement. We apologize for the frustration and confusion. As you mentioned, we are working on making it easier to access the help videos and guides. Currently we have a knowledge base filled with help articles: SutiHR Knowledge Base Please note that we also have Account Managers available for additional training if needed. You also mentioned about the ability to enter in the number of hours worked for the day. This feature has been added to the timesheets. We¿d be happy to setup a time discuss and review with you.